Top STEM Education Stories
Our vision for Illinois as a land-grant institution is to foster accessible, effective STEM teaching and learning—from preschool through graduate education—
at local, state, and national levels, thereby preparing a highly able citizenry and diverse STEM workforce to tackle pressing global challenges.
Current STEM Ed Highlights
A CEE 398 student enjoys a tour of the Abbott Power Plant.
Students in New Sustainability Course Tackle Real-World, Campus Problems
December 10, 2013
Ever complained about the poor condition of Illinois' interstates? Ever worried about our ever-burgeoning landfills full of garbage? Ever complained about the pot holes in campus streets, or been embarrassed that visitors' first impression of campus is a whiff of the South Farms? The 14 Civil and Environmental Engineering students who took CEE 398 PBL, a brand new sustainability course in Fall 2013, got the chance to do something about some of these issues.
---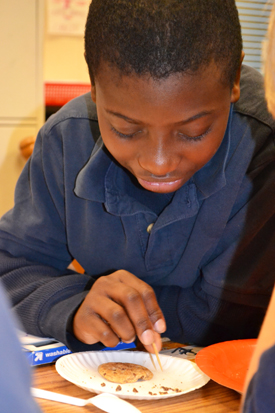 A Stratton fourth-grader "mines" chocolate chips from a cookie during an engineering inquiry-based learning activity.
MechSE's Dostart Hopes to Influence Local Youth to Choose Engineering
December 9, 2013
Nathan Dostart, a senior in Mechanical Science and Engineering, spent some early mornings at Stratton School this fall, showing Zanne Newman's fourth graders "that engineering is really cool."
STEM Ed News
Holiday Magic Chemistry Demonstration Show
Three Shows!
Wed, 12/11/13, 7 pm
Sat, 12/14/13, 2pm
Sun, 12/15/13, 2pm
Where: 100 Noyes Lab
Free and open to the public
SOLD OUT!

Get Tickets