Top STEM Education Stories
Our vision for Illinois as a land-grant institution is to foster accessible, effective STEM teaching and learning—from preschool through graduate education—
at local, state, and national levels, thereby preparing a highly able citizenry and diverse STEM workforce to tackle pressing global challenges.
Current STEM Ed Highlights
November 13, 2015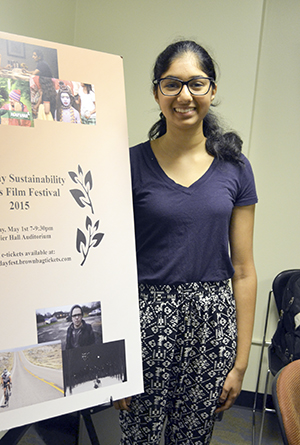 Sohinee Oswal, a member of both the Innovation and Sustainability LLCs.
It's not your mother's dorm any more. In fact, according to Alma Sealine, Director of University Housing, and Nathan Sanden, Assistant Director of Residential Life, in the university housing world, dorm is a four-letter word—and not just because of the number of letters it has.
"The 4-letter word dorm means that you only eat and sleep in that location," explains Sealine, "whereas we like the terminology residence hall because it accounts for the living and learning that occurs, in addition to just sleeping there." Thus, the name Living-Learning Communities, or LLCs.
---
November 10, 2015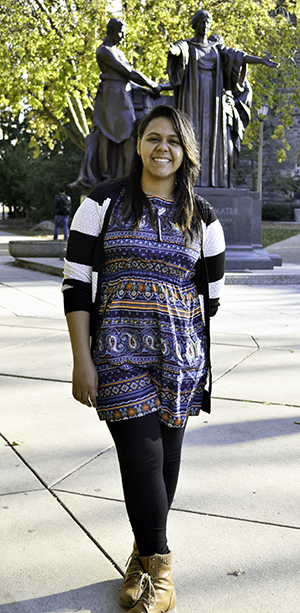 MCB graduate student Jannette Rodriguez-Otero
So how did Molecular and Cellular Biology (MCB) grad student Jannette Rodriguez- Otero from San Juan, Puerto Rico, go from studying to be a barber in a local vocational school to working on a Ph.D. in molecular sciences in MCB's Cellular Developmental Biology Department? She claims that there's one reason she's at Illinois: SROP.
"If I wouldn't have participated in the SROP, I wouldn't be here right now, I think," she explains. "Because the people wouldn't get to know me, and they wouldn't know how I work, because I got a recommendation from my mentor for the SROP. I think the SROP gave me a really big opportunity to get into grad school."