Top STEM Education Stories
Our vision for Illinois as a land-grant institution is to foster accessible, effective STEM teaching and learning—from preschool through graduate education—
at local, state, and national levels, thereby preparing a highly able citizenry and diverse STEM workforce to tackle pressing global challenges.
Current STEM Ed Highlights
March 23, 2017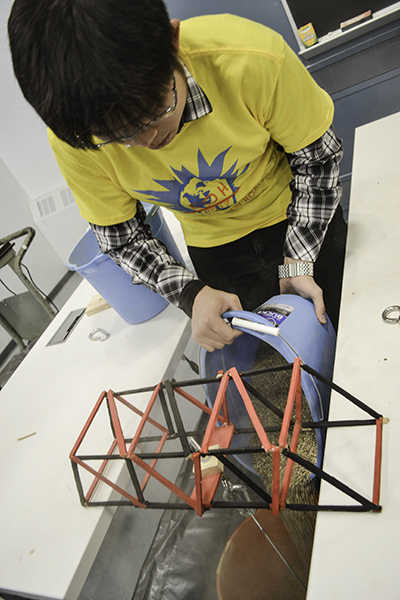 An engineering student pours sand into a bucket attached to an eyebolt to test how much weight the bridge will hold as part of the EOH MIddle School Design Contest.
It had all come down to this. It was crunch time—figuratively, and possibly literally, if the bridge built as part of the Engineering Open House (EOH) Middle School Design Contest collapsed while being tested. For weeks, three teams of eighth graders from Next Generation School (NGS) in Champaign had been designing bridges—building their prototypes, testing them, working out any kinks. Finally, Saturday, March 11th, the day of the contest, had arrived. With their fingers crossed, each team eagerly watched Illinois engineering students attach a bucket to their bridge then slowly fill it with sand. The idea was to see how much sand could be added before their bridge buckled. And whether they won an award or not, they'd learned a lot: about teamwork; about the engineering process; and what being a Civil Engineer might be like.
---
March 21, 2017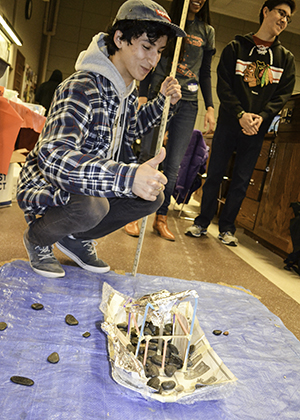 An engineering student gives a thumbs up, indicating that the team's house made it through the current hail test unscathed.
"Hail to the Orange, Hail to the Roof!"
This was emblazoned in bright orange on the front of the blue t-shirts more than 200 local 1st, 3rd, and 4th grade students wore as they invaded Engineering Open House (EOH) on Friday, March 10. They showed up to participate in the Engineering Outreach Society (EOS) engineering contest. Their main goal? To determine how well the house their team had constructed— particularly the roof— would stand up to the test: an avalanche of "hail" stones...