Top STEM Education Stories
Our vision for Illinois as a land-grant institution is to foster accessible, effective STEM teaching and learning—from preschool through graduate education—
at local, state, and national levels, thereby preparing a highly able citizenry and diverse STEM workforce to tackle pressing global challenges.
Current STEM Ed Highlights
nano@illinois REU Undergrads Experience Growth Via Nanotechnology Research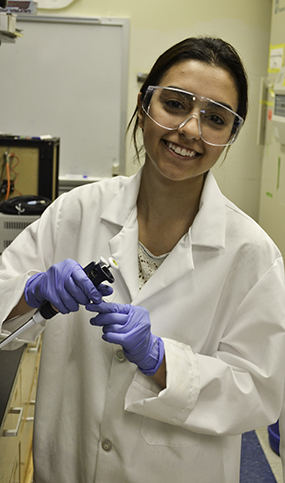 Nikou Pishevaresfahani, a rising junior at
Illinois
who participated in the nano@illinois REU this past summer..
August 27, 2015
"I definitely think the best learning experiences are those that push you out of your comfort zone." – Rumya Raghavan
Eleven undergraduate students spent the summer working in the labs of some of Illinois' world-class researchers as part of the 10-week nano@illinois REU (Research Experience for Undergraduates). Not only did participants perform nanotechnology research, but they were challenged both professionally and personally as they learned new things about nanotechnology, about life in a research lab, and about themselves. As a result of their experience, some decided that graduate school might be in their future; some even considering careers in nanotechnology research
---
REU Undergrads Experience Research, What Graduate School Is Like
August 25, 2015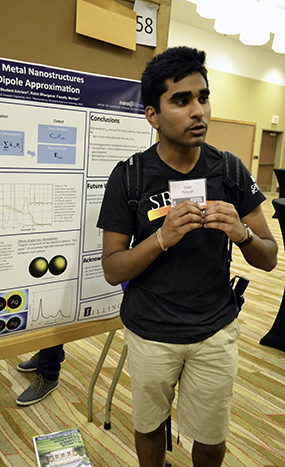 Sahil Nayyar, a participant in the nano@illinois REU, explains his research on the optical stimulation of metal nanostructures to a visitor to the Illinois Summer Research Symposium.
Twenty-six undergrads helped with cutting-edge research at Illinois this past summer as part of three NSF-funded Research Experience for Undergraduates (REU) programs: the nano@illinois, EBICS, and Bioimaging REUs. In addition to the research experience itself, as a side benefit, participants got to find out what being a graduate student is like and possibly decide if research—particularly the area they were studying this summer—might be the career for them.