Top STEM Education Stories
Our vision for Illinois as a land-grant institution is to foster accessible, effective STEM teaching and learning—from preschool through graduate education—
at local, state, and national levels, thereby preparing a highly able citizenry and diverse STEM workforce to tackle pressing global challenges.
Current STEM Ed Highlights
May 23, 2017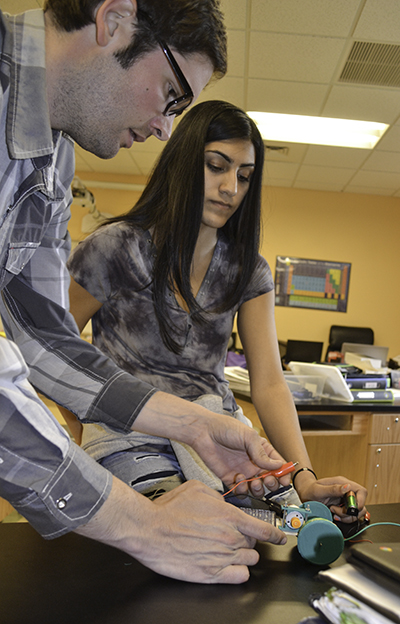 Fritz and a student work on building a solar car.
After spending weeks designing solar cars, teams of eighth graders at University Laboratory High School in Urbana and Next Generation School in Champaign tested their cars to see if they would move when exposed to bright light—and were either exultant or chagrined based on the results. The project was part of the POETS' RET program, during which a team of four local science teachers was tasked with creating a multi-week curriculum unit related to power, heat, and power density that was aligned with Illinois' Next Generation Science Standards (NGSS).
---
May 23, 2017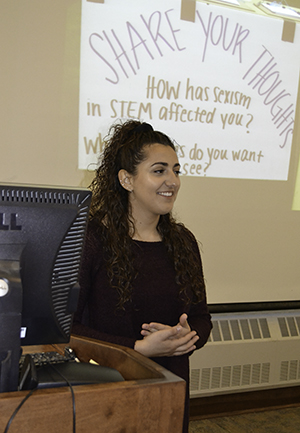 A 2016 G-BAM GAMES participant watches as a 3D printer fabricates parts of her project..
To showcase their final projects related to social justice issues they're passionate about, eleven engineering undergrads who were part of the pilot for the new, two-semester-long Engineering for Social Justice (ESJ) Scholars program presented Pecha Kucha in an end-of-the-semester event. (In this Japanese presentation style, 20 slides are shown for 20 seconds each, keeping presentations by multiple speakers concise and fast paced). On hand to witness the May 8 final event, were a number of interested Engineering administrators, faculty, and members of the Illinois community.