Top STEM Education Stories
Our vision for Illinois as a land-grant institution is to foster accessible, effective STEM teaching and learning—from preschool through graduate education—
at local, state, and national levels, thereby preparing a highly able citizenry and diverse STEM workforce to tackle pressing global challenges.
Current STEM Ed Highlights
Beginning Teachers Add to Their Hands-On Repertoire at STEM Conference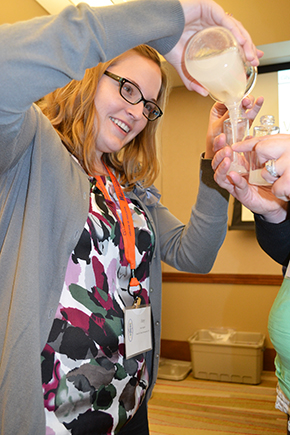 A teacher attending the INTC STEM Conference does some chemical engineering: working with chemicals to design shower gel during a breakout session.
July 31, 2014
On July 29–30, 2014, 100+ teachers from all over the state attended the 2nd Annual Beginning Teacher STEM Conference hosted by the Illinois New Teacher Collaborative (INTC). Held at the I-Hotel on campus, the conference targeted new teachers in their first through fourth years of teaching, plus some of their mentors. A total of 150 teachers registered for the conference, which featured keynote speaker Jeff Goldstein, director of NCESSE (the National Center for Earth and Space Science Education), 30 different break-out sessions, opportunities for networking, a panel of award-wining teachers, and an "Unconference" session, where the teachers themselves presented lessons/activities.
---
Illinois Aerospace Institute Designed to Launch Campers into Aerospace Careers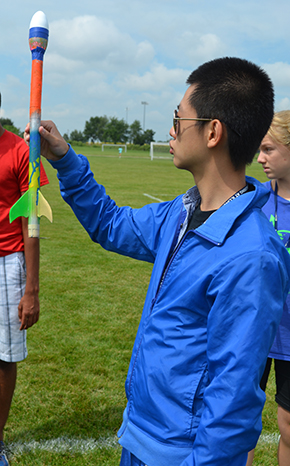 IAI camper waits to launch his model rocket at the Friday afternoon "Fly-Off."
July 30, 2014
For a high school student who might be considering a career in aerospace, spending a week at the 23rd annual Illinois Aerospace Institute (IAI) summer camp held the week of July 20–26, 2014, was a step in the right direction. Not only were the 40 students who attended briefed about different careers available, they learned some aerospace basics, including aerodynamics, rocket propulsion, UAVs, and orbits. But students did more than just gain head knowledge; they got their hands on some fun stuff too...