Top STEM Education Stories
Our vision for Illinois as a land-grant institution is to foster accessible, effective STEM teaching and learning—from preschool through graduate education—
at local, state, and national levels, thereby preparing a highly able citizenry and diverse STEM workforce to tackle pressing global challenges.
Current STEM Ed Highlights
December 14, 2016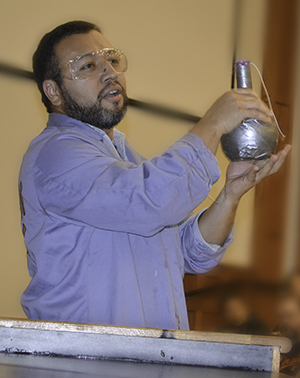 During Chemistry's Holiday Magic Show, Jose Andino does a spoof where he is attempting to make a "genie appear" out of the bottle.
The standing-room-only crowd crammed into 100 Noyes Lab for the final Holiday Magic Show of the season discovered that even chemistry can be magical around the holidays. And after experiencing some demonstrations by several of Chemistry's top instructors, they learned that Chemistry can not only be merry, but bright…and quite loud!
---
December 6, 2016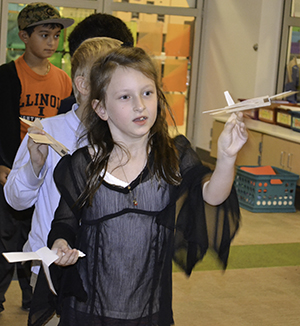 Booker T Washington STEM Academy students fly the gliders they built during a recent IAO outeach at Family Engineering Night.
As its name implies, Illini Aerospace Outreach (IAO) is all about Illinois Aerospace students sharing their love of aerospace engineering with local students. IAO's goal? To pique students' interest in aerospace—or STEM in general. While IAO members do numerous outreach events themselves, the organization also serves as the main point of contact for organizations and schools seeking outreach from one of Aerospace Engineering's numerous RSOs (Registered Student Organizations). IAO's third job? To babysit a huge, Rolls Royce Concorde airplane engine.