Top STEM Education Stories
Our vision for Illinois as a land-grant institution is to foster accessible, effective STEM teaching and learning—from preschool through graduate education—
at local, state, and national levels, thereby preparing a highly able citizenry and diverse STEM workforce to tackle pressing global challenges.
Current STEM Ed Highlights
January 10, 2019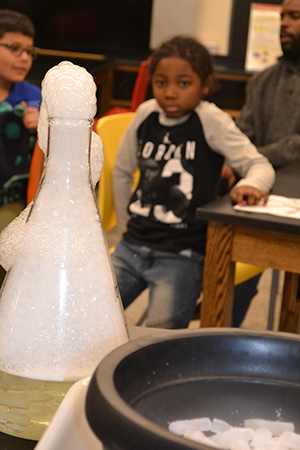 Local DREAAM House boys experience how liquid nitrogen can impact various materials.
On December 12, a number of University Laboratory High School (Uni High) students from the Students for a Better World (S4BW) club stayed after school in hopes of making the world a better place for twenty or so local boys. Mostly African Americans, the young boys were from the DREAAM House (Driven to Reach Academic Achievement for Males) program. Part of the Uni-DREAAM Connect partnership, the after-school outreach has this as its short-term goal: to expose young boys to fun and exciting learning opportunities, as well as mentoring. Its long-term goal? To reinforce academics, thus improving the youngsters' achievement so they can successfully navigate the educational pipeline from kindergarten to college.
---
December 20, 2018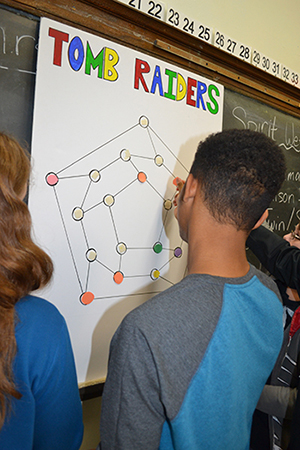 An Edison Middle School eighth grader places one of his pieces down while playing Tomb Raiders.
On Friday, December 14th, 26 Illinois undergraduate students who intend to one day teach mathematics visited Edison Middle School in Champaign as part of the Curriculum and Instruction (C&I) Department's annual math outreach, GeoJam. In addition to allowing the school's 220 or so eighth graders to explore a variety of ways that mathematics can be used outside of their math class at school, through the event they discovered that teamwork can be helpful in problem solving. Plus, and probably most importantly, they also learned that math can be fun. This year's GeoJam was organized by Gloriana Gonzalez, a C&I Professor in Math Education who was helping organize the event for the second year in a row, and C&I instructor Adam Poetzel, whose instructional focus is on the preparation and training of pre-service mathematics teachers to effectively teach diverse K–12 students.