Top STEM Education Stories
Our vision for Illinois as a land-grant institution is to foster accessible, effective STEM teaching and learning—from preschool through graduate education—
at local, state, and national levels, thereby preparing a highly able citizenry and diverse STEM workforce to tackle pressing global challenges.
Current STEM Ed Highlights
November 14, 2017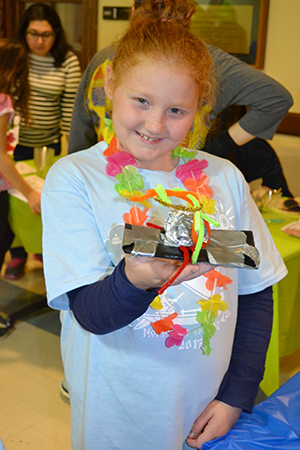 A Mommy, Me, and SWE participant shows off her boat made of aluminum foil, toothpicks, and pipe cleaners.
From building a boat (then watching it sink), to building a house (then watching as it was demolished during a hurricane)—all scenarios Moana might have experienced—fourteen 4th–6th grade girls gathered at the John Deere Pavilion on Saturday, November 4, to participate in Mommy, Me, and SWE and learn a bit about engineering. While the main goal for this engineering outreach event hosted by Illinois' chapter of Society of Women Engineers (SWE) was to educate girls about different engineering disciplines, they didn't do it all alone. In a special twist, the girls' moms were in attendance, too, participating in the activities right alongside the girls! The SWE members who participated hoped that this event might help the girls become interested in engineering, and that their mothers could learn more about it as well, in order to encourage them towards it.
---
November 9, 2017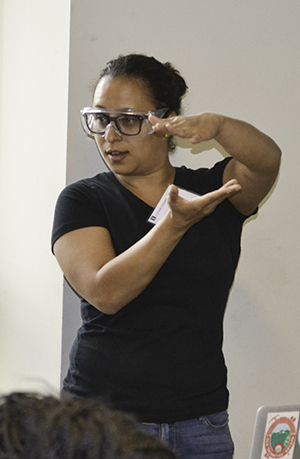 Paola Estrada teaches the UHS students about her research during the I-STEM Camp's MCB Day.
PhD students, as a general rule, have very little free time—most of their waking hours are spent holed up in some lab doing research. The precious little free time they do get, most choose to use it getting caught up on sleep or on food—or to socialize. Not Paola Estrada, however. This summer, the MCB PhD student took a break from her research to try to get 27 Urbana High School (UHS) students interested in science and engineering. Involved in MCB Day, the first day of I-STEM's summer camp this past August, Estrada helped to expose the high schoolers to some of the basics of microbiology. Ironically, it involved forensics. The MCBees used a classic detective game of "Whodunit?" in which students used science to solve the murder of a grad student, and forensics is what brought Estrada to the US and set her on her journey as a researcher of protein crystallography.