Top STEM Education Stories
Our vision for Illinois as a land-grant institution is to foster accessible, effective STEM teaching and learning—from preschool through graduate education—
at local, state, and national levels, thereby preparing a highly able citizenry and diverse STEM workforce to tackle pressing global challenges.
Current STEM Ed Highlights
January 21, 2016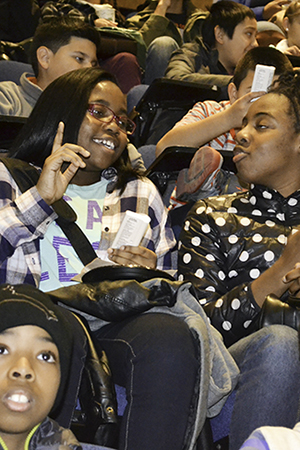 Chicago students use i>clickers to vote on their favorite professor's presentation during Engineering SLAM!—part of the ChiSE program's campus visit to
Illinois
.
Instead of watching cartoons or sleeping in, several Saturday mornings a semester, 100+ Chicago Public School (CPS) 5th through 7th grade students can be found doing math and physics activities as part of Illinois' Chicago Pre-College Science and Engineering (ChiSE) STEM enrichment program. Seeking to expose traditionally underserved students (and their parents) to STEM (Science, Technology, Engineering and Mathematics), ChiSE is comprised of a number of Illinois faculty, staff, and students who also devote their Saturdays to work with these youngsters in hopes of increasing their interest in STEM—and possibly even STEM careers.
---
December 16, 2015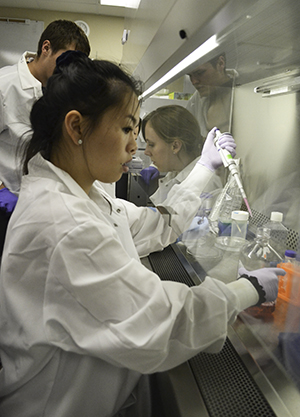 An
Illinois
Bioengineering undergrad, Anna Whelan, performs research inside a biosafety hood during one of BIOE 306's labs.
Biobots. The word smacks of scientific breakthroughs in the distant future, or the subject matter of some futuristic, sci-fi movie. But Illinois researchers are currently building and studying biobots as part of their research in this emerging field. However, they're not the only ones. This past semester, Illinois' Bioengineering department piloted a brand new course, BIOE 306, BioFabrication Lab, that teaches undergraduate students how to build them too. Developed as part of the NSF-funded EBICS (Emergent Behaviors of Integrated Cellular Systems) Science and Technology Center, the course distilled down cutting-edge EBICS research and initiated eight Bioengineering juniors and seniors into the mysteries of building with biology. In addition, the idea for this class was developed in part due to the Illinois Innovation Prize, which emphasized the need to teach the next generation of engineers and scientists how to "build with biology."