Top STEM Education Stories
Our vision for Illinois as a land-grant institution is to foster accessible, effective STEM teaching and learning—from preschool through graduate education—
at local, state, and national levels, thereby preparing a highly able citizenry and diverse STEM workforce to tackle pressing global challenges.
Current STEM Ed Highlights
Memory Metal to Oobleck: NanoDays Makes Learning About Nanoscience Fun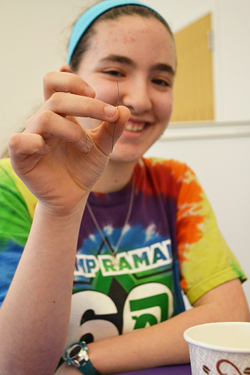 NGS student Lia Dankowitz illustrates how the strand has reverted to its "memorized" state (straight) after being placed in hot water.
April 10, 2014
On April 4, 2014, 22 6th–8th grade students from Next Generation School (NGS) participated in NanoDays, a program offering unique hands-on learning experiences about nanoscale science. The two-day event was held at the Champaign Public Library on Friday, April 4th, and the Orpheum Children's Science Museum on Saturday, April 5th. The role of NGS students was to demonstrate to NanoDays visitors the unique properties of nanoscale materials. However, besides learning a lot about nanoscience themselves, they also learned how to adapt their presentation so that not only their peers could understand, but an audience ranging from preschoolers to adults.
---
Engineering Students Enjoy Exposing Visitors to STEM During EOH 2014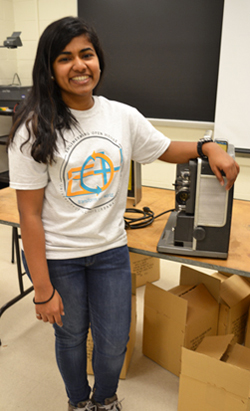 Illinois student Niranjana Sreekumar poses by her EOH exhibit, an old-style movie projector.
March 14, 2014
Among the thousands of folks who made the pilgrimage to the Illinois campus to attend "Transform Your World," the 94th annual Engineering Open House (EOH) on March 14 and 15, 2014, were a couple of Springfield, Illinois mothers who wanted to give their sons a little extra exposure to STEM (Science, Technology, Engineering, and Mathematics).
Co-funded by the National Institute of Environmental Health Sciences (NIEHS) and the Environmental Protection Agency (EPA), a 5-year, $7.6 million grant was recently awarded to Illinois' Children's Environmental Health Research Center. The project, "Novel Methods to Assess the Effects of Chemicals on Child Development," is studying the effects of phthalates and BPA on children.
STEM Ed News
nano@illinois
Research Experience for Teachers
What: 6-week nanotechnology research experience at Illinois for STEM teachers.
When: June 16-July 25, 2014.
Apply by April 20th, 2014 for full consideration.