Top STEM Education Stories
Our vision for Illinois as a land-grant institution is to foster accessible, effective STEM teaching and learning—from preschool through graduate education—
at local, state, and national levels, thereby preparing a highly able citizenry and diverse STEM workforce to tackle pressing global challenges.
Current STEM Ed Highlights
WYSE Camps Treat Guys and Gals to an Engineering Smorgasbord
July 27, 2015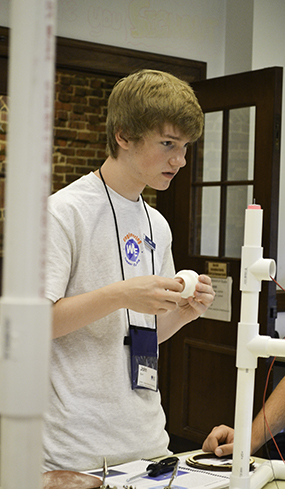 An Exploring Mechanical Engineering WYSE camper helps his team build a wind turbine.
Like Illinois' cutting-edge GAMES camps, the five summer 2015 WYSE (Worldwide Youth in Science and Engineering) camps are designed to show high school students how fun and exciting engineering can be...and to encourage them to choose it as a career. What sets WYSE apart from GAMES camps, which are for girls only, is that it exposes guys to engineering too. What also sets these camps apart is that while two focus on specific disciplines (like GAMES), the other three are designed to give students a taste of all of the different types of engineering available—kind of like an engineering smorgasbord.
---
2015 GAMES Camps Recruit Girls to the STEM Pipeline...and Engineering
July 17, 2015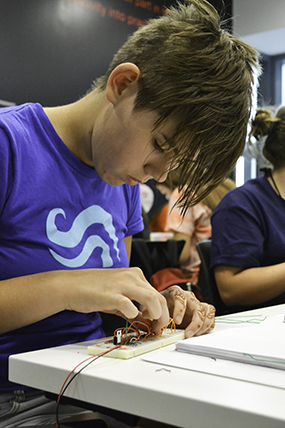 GLEE GAMES camper puts the finishing touches on the LED calculator she is building.
Just about everyone who helped run this summer's eight, week-long GAMES (Girls' Adventures in Mathematics, Engineering, and Science) camps from June 7th–July 18th would unashamedly admit hoping to influence the 199 high school girls who attended to choose engineering as a career—and to come to Illinois to learn all about it. And GAMES appears to have a pretty good track record of doing just that, because several Illinois students who served as lab assistants/counselors this summer attended GAMES themselves and admit that it impacted their decision to go into engineering.