Top STEM Education Stories
Our vision for Illinois as a land-grant institution is to foster accessible, effective STEM teaching and learning—from preschool through graduate education—
at local, state, and national levels, thereby preparing a highly able citizenry and diverse STEM workforce to tackle pressing global challenges.
Current STEM Ed Highlights
February 3, 2017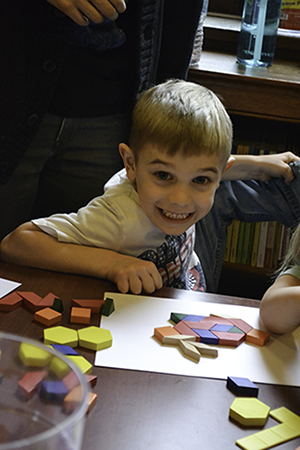 A local kindergartener proudly exhibits the puzzle of a rabbit that he created at the Tile Emporium.
Hundreds of local adults and children converged on Altgeld Hall on Saturday, January 28th for Math Carnival: Gathering for Gardner. As they participated in the numerous puzzles, games, riddles, magic tricks, and other hands-on activities, they discovered that math is more than just figures and formulas. According to Melinda Lanius, a math Ph.D. student who, along with Assistant Professor Philipp Hieronymi, organized this year's event, "Math is play!" And numerous volunteers from Illinois' Department of Mathematics, Illinois Geometry Lab, and Association for Women in Mathematics spent the afternoon showing members of the community that play can indeed be math—and that it's fun.
---
January 30, 2017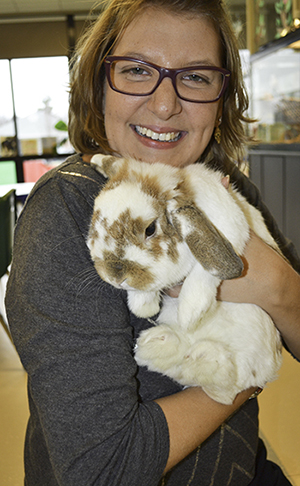 NGS Pre-school Science Teacher Grazi Murad with Gizmo the Bunny.
Practically the first thing one sees upon entering Next Generation School's Preschool is an intriguing, glass-enclosed structure—science teacher Grazi Murad's classroom. When one ventures into the room, replete with exhibits, butterfly-filled cases, and animals in enclosures that simulate the different habitats the animals are from, her love of animals—and her students—is quite apparent. That her students love her and her hands-on style of teaching science is also readily apparent. The kids not only get to look at and hear about the eclectic range of animal friends in Murad's menagerie, they get to meet them face to face—animals like Lizzy the Leopard Gecko, Gizmo the Bunny, Arnaldo the Chinese Water Dragon, and Bridget the Fire Corn Snake. They even get to touch them…if they're brave enough.