Top STEM Education Stories
Our vision for Illinois as a land-grant institution is to foster accessible, effective STEM teaching and learning—from preschool through graduate education—
at local, state, and national levels, thereby preparing a highly able citizenry and diverse STEM workforce to tackle pressing global challenges.
Current STEM Ed Highlights
November 30, 2016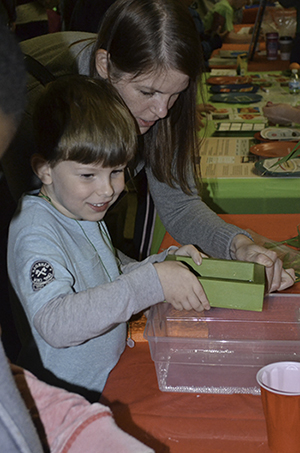 A young Genome Day participant learns about how plants can change their appearance via a genetic response to environmental stresses
Around 500 visitors, both young and old, spent their Saturday afternoon on November 12th at Genome Day, learning more about DNA and genes. Sponsored by the Institute for Genomic Biology (IGB), the event featured fun, engaging, hands-on activities taught by 120+ Illinois students, staff, and researchers associated with IGB who were on hand at the Orpheum Children's Science Museum, where they shared their passion for genomics and introduced the visitors to the world of IGB's research.
---
November 17, 2016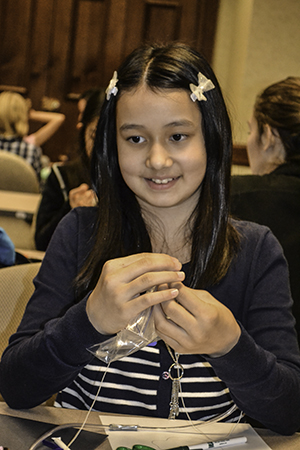 A local youngster does a hands-on activity during Mommy, Me, and SWE.
Engineering is not only fun, but can be used to help solve practical, real-world problems —even not-so-real problems—like finding Dory. This is the message Mommy, Me, and SWE sought to convey to the 30 local middle school girls (and their moms) who participated in the all-day outreach event on Saturday, November 12th. While participating in the event's fun and engaging hands-on activities, the mother-daughter teams were exposed to a number of different engineering disciplines as Illinois students brought engineering down to a level the kids (and even the moms) could understand.
---