Top STEM Education Stories
Our vision for Illinois as a land-grant institution is to foster accessible, effective STEM teaching and learning—from preschool through graduate education—
at local, state, and national levels, thereby preparing a highly able citizenry and diverse STEM workforce to tackle pressing global challenges.
Current STEM Ed Highlights
August 2, 2017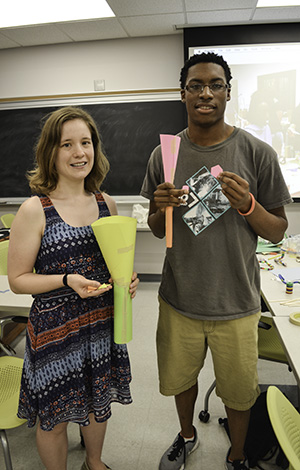 Davan Minor, and his mentor, Courtney Krafczyk, show the outreach projects they built during the iRISE team-building workshop taught by Sharlene Denos.
Instead of spending their summers working at McDonalds, or lounging by the pool, ten rising juniors and seniors from Centennial and Central High Schools in Champaign spent the summer learning about things like photon quantum mechanics, dark matter detectors, and the biochemistry of swimming bacteria. Part of the Young Scholars Program, a new, six-week summer research opportunity, the students got to experience authentic, cutting-edge research in some of Illinois' premier research labs. Begun by the Physics Department and the POETS Engineering Research Center, and funded by ICR funds from the NSF NPL grant, NSF-funded POETS, and the Physics Department itself, the fledgling program was begun to help students discover what research is actually like, determine if research might be in their futures, plus give them an idea of what college is like.
---
July 31, 2017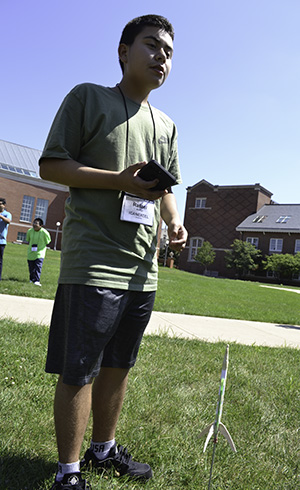 An ICANEXSEL camper prepares to launch the rocket he desinged and built.
Twelve soon-to-be 9th graders in Chicago Public Schools (CPS) this fall haven't even taken one class in high school, but they've already found out what college life could be like—thanks to the brand new STEM camp, ICANEXSEL. The half-week, residential camp, held from July 24–26th, introduced rising CPS freshmen to several different engineering disciplines via hands-on activities and demonstrations. The camp also introduced them to some Illinois professors and students who led the activities and served as camp counsellors. Plus, the students, also got a taste of what college life (and dorm food) is like while staying at the Illinois Street Residence Halls.