Top STEM Education Stories
Our vision for Illinois as a land-grant institution is to foster accessible, effective STEM teaching and learning—from preschool through graduate education—
at local, state, and national levels, thereby preparing a highly able citizenry and diverse STEM workforce to tackle pressing global challenges.
Current STEM Ed Highlights
2015 Vet Med Open House Offers Visitors Hands-On Learning Opportunities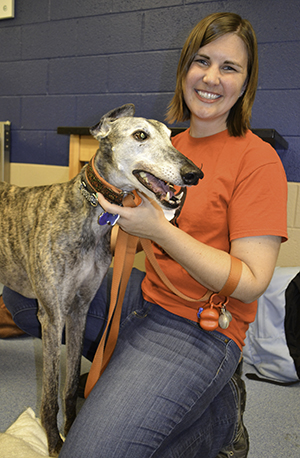 A Vet Med student poses with one of her four-legged, furry friends during Open House 2015.
October 7, 2015
The thousands of visitors of all ages who attended the 2015 Vet Med open house on Sunday, October 4, found plenty to see and do tailored to their specific interests. For instance, pet owners got tips on how to train Rover or care for Fluffy. Folks hankering for the good ole' days learned practical skills: how to milk a cow or a goat, or sheer a sheep. Parents who needed to get the kids out of the house found a plethora of educational yet entertaining activities, ranging from crafts in the kids' tent, to petting a snake, to a photo op with Porky Pig. High school students exploring their career options could pick the brains of current Vet Med students. And everyone got a behind-the-scenes look at what goes on at the College of Veterinary Medicine.
---
Chicago Youth Experience College, Fun STEM Activities at Illinois
September 24, 2015
"We believe college graduation is not an option, but an expectation." – Wanikka Vance, Head of School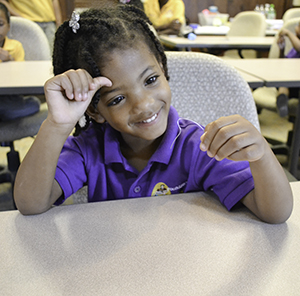 A young Foundations 4 Advancement student works with memory metal.
When 30 or so Chicago youngsters visited campus for a tour and some hands-on STEM activities on September 17th, it shouldn't have come as a surprise that the majority of the students were three, four, and five years old. According to Wanikka Vance, the founder and Head of Foundations 4 Advancement Christian College and Career Readiness Academy, it's never too early to begin shaping youngsters into young entrepreneurs and inculcating into them this paradigm: they're college-bound.