Top STEM Education Stories
Our vision for Illinois as a land-grant institution is to foster accessible, effective STEM teaching and learning—from preschool through graduate education—
at local, state, and national levels, thereby preparing a highly able citizenry and diverse STEM workforce to tackle pressing global challenges.
Current STEM Ed Highlights
"Programming is the most powerful skill on Earth. If you want a general purpose problem-solving skill, programming is it. Computers are by far the most powerful problem-solving tool we've ever built, and until you learn how to program, you can't really fully use them. If you really want to unlock their full potential, learn programming." – Geoffrey Challen
March 14, 2019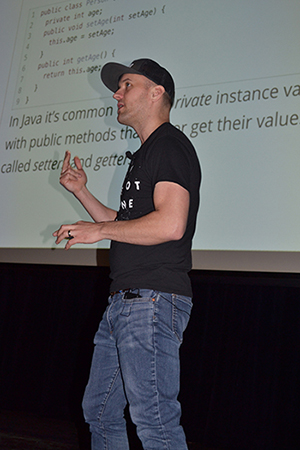 Geoffrey Challen lectures to the CS125 class.
Geoffrey Challen recently heard a quote that got his attention: "Two codes that students need to learn, one of them is the constitution, the other is how to program." While he didn't necessarily comment on the first part, it's pretty clear that he would wholeheartedly agree with the second. However, as passionate as he is about programming, there's one thing the Teaching Associate Professor in Computer Science (CS) at Illinois is even more passionate about…teaching students how to program. While originally focusing on research earlier in his career, he reports that, "Along the way I was really sort of discovering that I really like teaching," telling himself, "This is really meaningful to me; and this is kind of what I want to do." So now, he's using his programming skills in support of his teaching.
---
March 12, 2019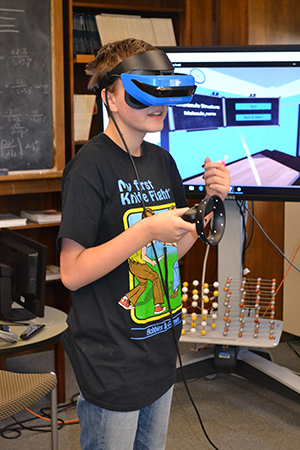 An eighth grader experiences virtual reality during the students' visit to MRL
It's not your mother's science class…or music class, for that matter! The goal of I-MRSEC's "Musical Magnetism" curriculum was to expose Franklin STEAM Academy eighth grade students to materials science and magnetism, but also to another of the center's main emphases: scientific communication. What's unique about the lesson plans is that they embraced a medium today's kids can probably get into: hip hop or rap. So, after a number of Illinois researchers, students, and staff, who also served as role models, had exposed the students to multidisciplinary lessons in several related areas, the kids teamed up to create then present raps about specific areas of magnetism.