Top STEM Education Stories
Our vision for Illinois as a land-grant institution is to foster accessible, effective STEM teaching and learning—from preschool through graduate education—
at local, state, and national levels, thereby preparing a highly able citizenry and diverse STEM workforce to tackle pressing global challenges.
Current STEM Ed Highlights
Petascale Institute Introduces Students to High-Performance Computing
June 12, 2015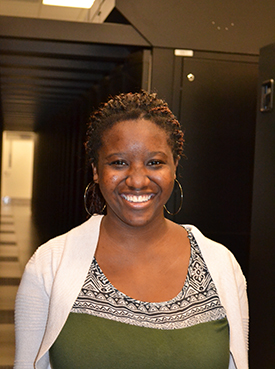 Blue Waters Intern, Kiara Wootson, during a tour of the Blue Waters Supercomputer.
Most of the 34 students who attended the two-week Petascale Institute May 24th–June 5th are not in computer science; however, by the middle of the second week, they were glibly rattling off HPC (High Performance Computing) jargon, confidently referring to concepts most of us either have never heard of or have no idea what they actually are, like: OpenMP and MPI, vector accelerators, OpenACC, CUDA, debugging, optimization, and visualization. Their goal? To learn enough about parallel computing to be able to use Blue Waters or another supercomputer to analyze data for projects ranging from studying black holes, neutron stars, and galaxies, to natural language acquisition, visualization in cyber security, or protein folding using molecular dynamic simulations
---
I-STEM Evaluators Serve as "Critical Friends" for STEM Education Programs
June 4, 2015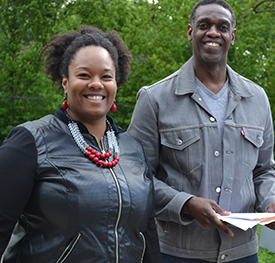 I-STEM evaluators Ayesha Tillman & Marlon Mitchell at an evaluation of a Family Day Event of the REEEC Title VI Center's program at the Savoy Head Start.
A trait most human beings share is that we love to receive praise about something we're doing right, but sometimes take umbrage when we receive even constructive criticism. And folks involved with STEM education programs are no different. But when it comes to the evaluation of these programs, I-STEM evaluators work hard at being objective, describing themselves as "critical friends." While they are pleased to inform those involved in the programs about the things they're doing right—similar to the proverb that begins, "Better are the wounds of a friend"—they're also willing to tell them about things that need improvement and how they could do that.
STEM Ed News
3rd Annual Beginning Teacher STEM Conference
Who: Early-career K-12 STEM teachers
When: July 28– 29, 2015
Where: I Hotel
Cost: low-cost
Sponsorships: Seeking sponsors to offset cost For sponsorship info, email: intc@illinois.edu
CPDUs are available.

STEM Conference Flyer