Top STEM Education Stories
Our vision for Illinois as a land-grant institution is to foster accessible, effective STEM teaching and learning—from preschool through graduate education—
at local, state, and national levels, thereby preparing a highly able citizenry and diverse STEM workforce to tackle pressing global challenges.
Current STEM Ed Highlights
MechSE's Gaurav Bahl Promotes Outreach and Undergrad Research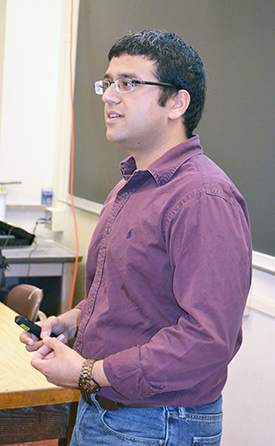 MechSE Assistant Professor Gaurav Bahl.
October 14, 2014
While MechSE Assistant Professor Gaurav Bahl is passionate about his research—opto-mechanics —he also believes university folk should get outside the four walls of their labs and impact the community. Plus, he's passionate about mentoring students, especially undergrads. So when he recently shared his expertise with some seniors at Uni High, he invited a couple of his students to tag along to share what they know and to experience outreach for themselves.
---
MechSE's Ewoldt Brings Rheology Down to a Level Learners of All Ages Can Grasp
October 6, 2014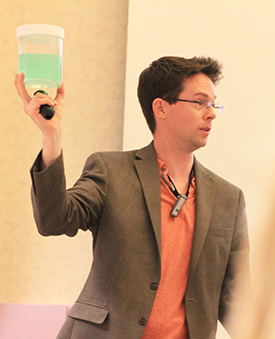 Randy Ewoldt teaches about a non-Newtonian fluid to GBAM campers in a session on "Funny Fluids) during the summer of 2014 G.A.M.E.S. camp. (Photo courtesy of Joe Muskin.)
"If you really understand something, you can explain it to somebody else in a simple enough way to bring it down to their level, wherever that level might be." – Randy Ewoldt
And what Assistant Professor Randy Ewoldt of Illinois' Department of Mechanical Science and Engineering understands really well is fluid mechanics, particularly rheology. Bringing it down to a level most folks could understand, he defines it as: "the study of how things squish and deform when you push on them."