Top STEM Education Stories
Our vision for Illinois as a land-grant institution is to foster accessible, effective STEM teaching and learning—from preschool through graduate education—
at local, state, and national levels, thereby preparing a highly able citizenry and diverse STEM workforce to tackle pressing global challenges.
Current STEM Ed Highlights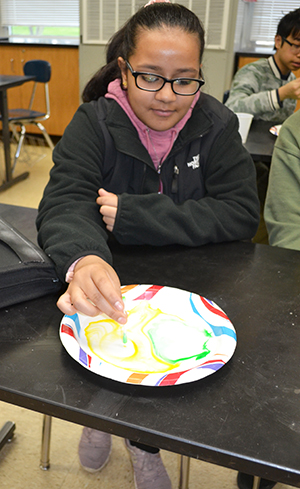 A local eighth grader learns about milk's hydrophobic and hydrophyllic properties.
May 21, 2019
Thanks to the MCBees, Jefferson Middle School eighth graders learned about some basic science topics in spring 2019, including enzymes, nutrition, pH, cells, and hydrophobic and hydrophyllic molecules. A couple of times a month from February through May 2019, nine members of Illinois' School of Molecular and Cellular Biology (MCB) graduate student organization dropped by Elizabeth Wheatman's and Sammy Yoo's classes to lead students in some fun, STEM hands-on activities. The MCB Ph.D students (and postdocs) hoped to pique the younger students' interest in science and possibly add some diversity to the field. Plus, the eighth graders weren't the only ones to benefit; the scientists themselves got a lot out of the partnership. Some just enjoyed getting out of the lab for a bit, and others were reminded why they had become passionate about science in the first place.
---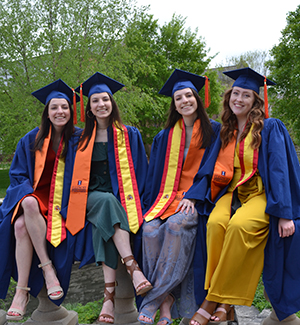 May '19 Industrial and System Engineering grads, Frances Ponicki, Teresa Ponicki, Mary Ponicki, and Siobhan Fox, ready for graduation.
May 17, 2019
Ready. Set. Go! It's May, and a new batch of Illinois engineers, including Siobhan Fox and Frances, Teresa, and Mary Ponicki, with whom I-STEM has had significant interactions during their tenure at Illinois, are chomping at the bit to go out and change the world. The top of their respective high school classes, upon arriving on campus as freshmen, they discovered that it was a whole new ball game. They all experienced failure in one form or another, or encountered challenges that they had to work to overcome. But through the community here at Illinois, including some amazing Engineering professors, they overcame those challenges and have emerged prepared for the future—well-trained, inspired, and excited to use their knowledge and skills to problem solve and to make the world a better place.