Top STEM Education Stories
Our vision for Illinois as a land-grant institution is to foster accessible, effective STEM teaching and learning—from preschool through graduate education—
at local, state, and national levels, thereby preparing a highly able citizenry and diverse STEM workforce to tackle pressing global challenges.
Current STEM Ed Highlights
April 24, 2017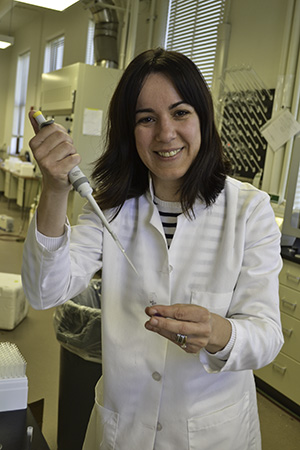 Leal at work in her MatSE lab.
Cecelia Leal, an Assistant Professor in Materials Science and Engineering (MatSE), was recently awarded a 5-year National Science Foundation Grant called, "CAREER: Nanostructured Soft Substrates for Responsive Bioactive Coatings," to study key fundamental properties of biocompatible lipid materials. Because Career grants also require researchers to do an educational outreach component, in addition to the graduate students she'll be training and mentoring, Leal will be doing a new summer camp for middle school girls and a workshop for incarcerated individuals as part of the Education Justice Project.
April 20, 2017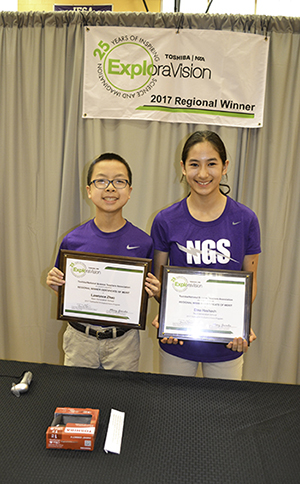 Lawrence Zhao and Dina Hashash with the plaques they recieved from Toshiba at the awards ceremony.
One doesn't have to be an adult to be an inventor. Nor does one have to be an adult to be green. Dina Hashash and Lawrence Zhao, two local 7th graders at Next Generation School in Champaign are doing their part to promote renewable energy in order to help solve the energy crunch. As part of ExploraVision, Toshiba's K–12 program designed to "engage the next generation in real-world problem solving, with a strong emphasis on STEM," the two invented the BioKT. It's a watch-like device that harvests both kinetic and thermal energy from the body of its wearer. Their innovative design helped them reach the Regionals of the contest, an achievement celebrated by an awards ceremony at their school on April 13th.
---