Top STEM Education Stories
Our vision for Illinois as a land-grant institution is to foster accessible, effective STEM teaching and learning—from preschool through graduate education—
at local, state, and national levels, thereby preparing a highly able citizenry and diverse STEM workforce to tackle pressing global challenges.
Current STEM Ed Highlights
October 20, 2017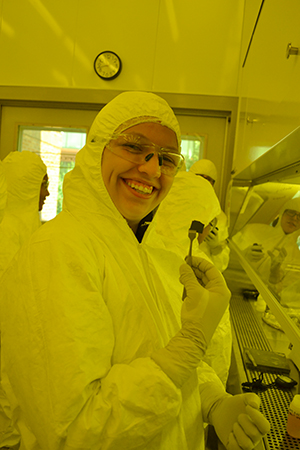 A GLEE camper works in the Optical Lithography Cleanroom
At the 2017 G.A.M.E.S. (Girls' Adventures in Mathematics, Engineering, and Science) camp during the week of June 18–24, 14 students attended the GLEE (Girls Learning Electrical Engineering) portion of the camp. These 14 girls included 7 from the suburbs of Chicago, 4 from out of state, and even one international student from Turkey. GLEE allowed girls to get their hands on electrical engineering components in a week-long adventure in circuitry and solar power. GLEE has been run by ECE (Electrical and Computer Engineering) professor Lynford Goddard for the past eight years. This year, his 14 students undertook a couple of projects to get them familiar with the core concepts of circuitry and electrical engineering.
---
October 17, 2017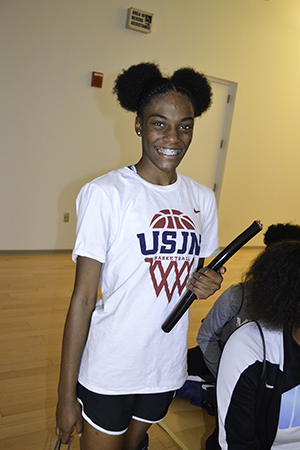 A camper poses with a sample Blue Waters supercomputer cable.
Where's the Popcorn? That was all that was missing when 27 Urbana High School (UHS) student athletes sporting 3D glasses lounged in the cushy, theater-quality seats of NCSA's viewing room to preview some of the Advanced Visualization Laboratory's (AVL) high-resolution, cinematic-quality, 3D data visualizations. They were at the National Center for Supercomputing Applications for NCSA Day, the final day of the first-ever, I-STEM Summer Camp: A Multidisciplinary Program. During the Friday, August 18th visit, students also toured the National Petascale Computing Facility and met the Blue Waters Super Computer up close, and also discovered more about what NCSA does while attending a panel discussion hosted by several NCSA researchers and programmers.