Top STEM Education Stories
Our vision for Illinois as a land-grant institution is to foster accessible, effective STEM teaching and learning—from preschool through graduate education—
at local, state, and national levels, thereby preparing a highly able citizenry and diverse STEM workforce to tackle pressing global challenges.
Current STEM Ed Highlights
June 13, 2017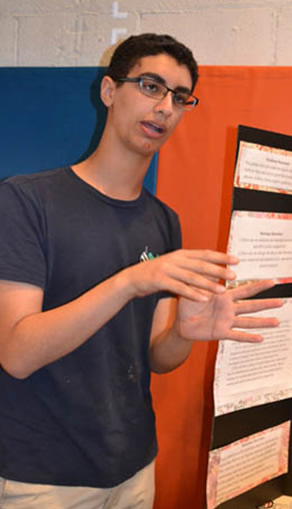 Uni eight grader explains his research findings.
This past semester Sharlene Denos planted the seed of innovation in her University Laboratory High School (Uni High) 8th grade science students. In collaboration with local Champaign-Urbana community gardens, and funded by the Illinois Learning Sciences Design Initiative (ILSDI), her students unearthed problems encountered by managers of the gardens, then, based on science learned in school, as well as via research, got to work on how to effectively solve these problems. While the science aspect of their projects was important, the main focus was really on the design element.
---
June 13, 2017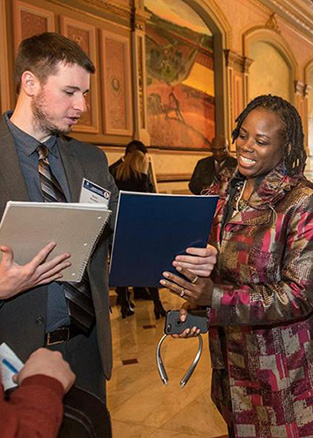 Ryan Rooney, the Science Policy Group's treasurer, speaks to State Representative Carol Ammons during his visit to the state capitol. (Photo courtesy of: Science Policy Group 
website.
)
While the Science Policy Group, which began in January of 2017, might be the new kids on the block when it comes to RSOs (Registered Student Organizations), they're not hesitant to tackle some weighty subjects, like diversity in STEM or President Trump's impact on science education. Their latest coup? They've invited Illinois State Senator Scott Bennett to drop by campus to participate in a dialog about Science Policy at 4:00 pm on July 13, 2017, at Beckman Auditorium...and invite everyone to attend.