Top STEM Education Stories
Our vision for Illinois as a land-grant institution is to foster accessible, effective STEM teaching and learning—from preschool through graduate education—
at local, state, and national levels, thereby preparing a highly able citizenry and diverse STEM workforce to tackle pressing global challenges.
Current STEM Ed Highlights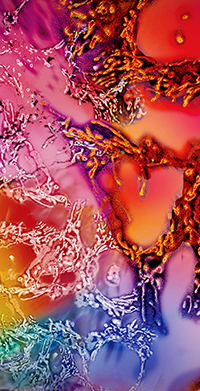 The image above is of human colorectal cancer cells, ELYRA superresolution microscope, by Vladimir Kolossov (Rex Gaskins Lab). This is one image from the "Art of Science: Images From the Institute for Genomic Biology" exhibition. Photo courtesy Institute for Genomic Biology.
April 27, 2016
A group of 29 local high school and middle school students from Urbana High School and several Champaign middle schools and high schools will visit campus on Friday, April 29 to participate in "DNA Applications: Interdisciplinary Perspectives for STEM Careers." Hosted by the I-STEM Education Initiative as part of the NIH-sponsored national DNA Day activities, the event, will introduce the youngsters to DNA and expose them to some of the DNA research done on campus.
To begin the day's activities, students will receive a brief Introduction to DNA, then will participate in a series of hands-on activities in Loomis Lab. These activities will be led by MCB (School of Molecular & Cellular Biology) graduate students who are members of a newly formed graduate student association, the MCBees.
---
April 26, 2016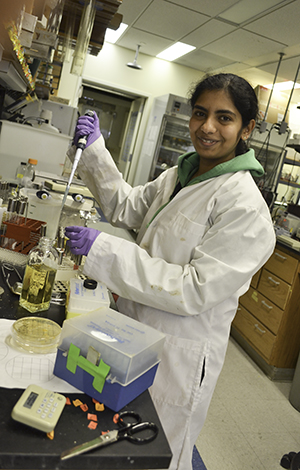 MCBee's Secretary Pritha Rao at work in her lab in the Chemical and Life Sciences Laborabory.
In the past, new graduate students coming into Illinois' 10-year-old School of Molecular and Cellular Biology (MCB) didn't have much interaction with other grad students who had been in MCB for a while. During their first six months at Illinois, they were somewhat isolated as they rotated from lab to lab to find their niche, then got further divided as they entered one of MCB's four departments: Biochemistry, Cell and Developmental Biology, Microbiology, and Molecular and Integrative Physiology (MIB). Then, once that first semester was done, they didn't really come into contact with their classmates any more, "because you kind of get busy with your work," admits Biochemistry grad student Amruta Bhate, "and you only meet people from your department."
So a group of MCB grad students decided to do something about it...
---
April 15, 2016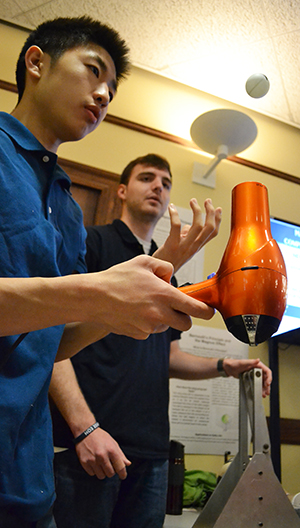 Two
Illinois
Engineering students wow visitors during EOH 2016.
Thousands of guests of all ages flocked to campus on March 11–12, 2016, to attend "The STEM of Innovation," the College of Engineering's 96th annual Engineering Open House (EOH). Among them were students from local schools on field trips, including some who showed up as guests of campus student groups, like WIE (Women in Engineering) and EOS (Engineering Outreach Society). Illinois engineering students had done projects with them earlier in the semester then brought them to EOH as a culminating event. Even some former students showed up representing their current companies, like Ford, to try to lure youngsters into engineering…or to entice current engineering students into their company. And of course, lots of Illinois engineering students showed up to strut their stuff.