Top STEM Education Stories
Our vision for Illinois as a land-grant institution is to foster accessible, effective STEM teaching and learning—from preschool through graduate education—
at local, state, and national levels, thereby preparing a highly able citizenry and diverse STEM workforce to tackle pressing global challenges.
Current STEM Ed Highlights
Gulyash, MechSE Machine Shop Solve Problems, Save Money…and Recruit
January 20, 2015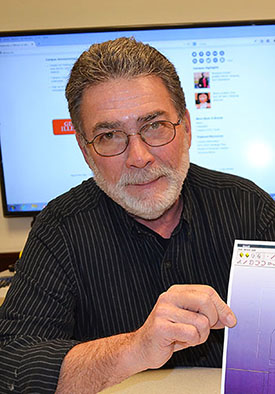 Clifford Gulyash, MechSE Machine Shop Supervisor
"What I have is a lifetime of solving problems by building anything and everything that's been given to me." – Clifford Gulyash
Clifford Gulyash, who heads up MechSE's Machine Shop, doesn't have an engineering degree. "What I do have is a basic understanding of how to make things," he modestly explains. And he's been making things since he was a six-year-old.
He shares an anecdote about his early proclivity for making things: "I started building as soon as I could pick up a hammer, and when I was five or six, I built my first go-cart, put a sail on it, and ended up getting into trouble going down the street. That's a true story."
---
Uni High Engineering Class Makes Wind Maze for Orpheum Museum
January 22, 2015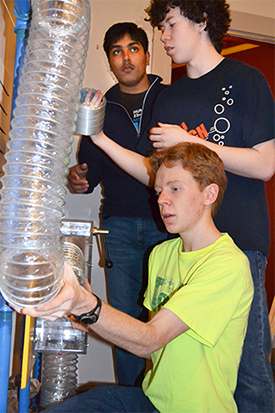 Uni High Students add a section of plastic tubing to the wind maze they're building.
"It's a real-world project: they're learning about engineering by actually being engineers." – Sharlene Denos, Uni High engineering teacher
This past summer, University Laboratory High School (Uni) teacher Sharlene Denos made a visit to Champaign's Orpheum Children's Science Museum to further cement the university's partnership with the museum. She told the interim director:
"I've got this new engineering class, and I'd really like them to do something that would benefit the community. We love the Orpheum; is there anything that we can design and build for you that would be useful for your museum?" The director promptly responded, "Yes, we really want an air maze."