Top STEM Education Stories
Our vision for Illinois as a land-grant institution is to foster accessible, effective STEM teaching and learning—from preschool through graduate education—
at local, state, and national levels, thereby preparing a highly able citizenry and diverse STEM workforce to tackle pressing global challenges.
Current STEM Ed Highlights
From Moon Rocks to Test Tubes: Arzeena Ali Exemplifies the STEM Pipeline in Action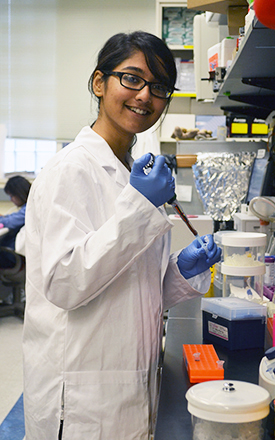 Arzeena Ali performs research on nanotechnology in Dr. Li Yu's lab
September 3, 2014
Chemistry Merit Scholar and Nano@Illinois REU participant Arzeena Sultana Ali has never met a STEM subject—or STEM program— she didn't like. Exposure to science early on piqued her interest, and from then on, she was hooked. "I always knew I wanted to do science from a very young age," Ali admits. So it was just a matter of figuring out which discipline.
It all started when she was a youngster at Chicago's Kilmer Elementary, a NASA Explorer School, where her love for space science was kindled...
---
WIE Camp 2014: Creating Community for Female Engineering Students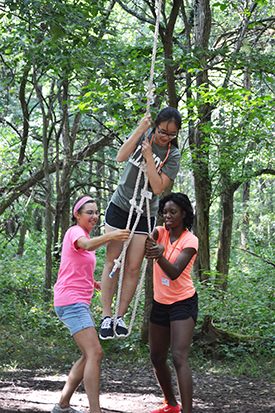 Incoming Engineering freshmen learn about teamwork during WIE Camp 2014.
August 26, 2014
Dean Susan Larson recalls that when she took over as the Director of Women in Engineering (WIE) in 2003, she thought, "The women need something to get started. They're a minority, but if they know one another, they'll be ok. They'll form a community; they'll make those connections." So, hoping to "bring them all together to get to know one another and get to know the campus and some of the instructors and advisors here," she started WIE Camp.