Top STEM Education Stories
Our vision for Illinois as a land-grant institution is to foster accessible, effective STEM teaching and learning—from preschool through graduate education—
at local, state, and national levels, thereby preparing a highly able citizenry and diverse STEM workforce to tackle pressing global challenges.
Current STEM Ed Highlights
July 17, 2018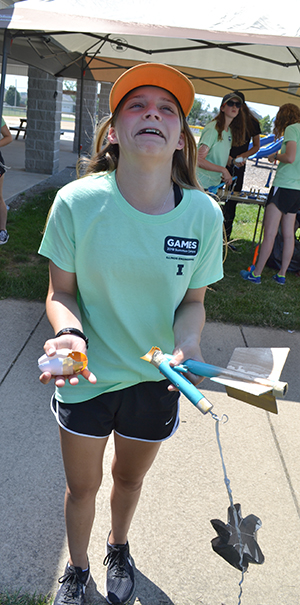 An aerospace GAMES camper expresses her dispair after her rocket did not soar as well as she hoped.
Remember building and flying a kite as a kid? Remember the exhilaration you felt as you watched it soar way up high? Even more rewarding is the feeling participating 9–12th grade high school students are getting this summer as they launch the gliders and rockets they designed and built during Aerospace Engineering's (AeroE) three residential camps: Aerospace Engineering GAMES and two Illinois Aerospace Institutes (IAI). Eyes focused heavenward, the campers watch them soar (or let's be realistic—"crash and burn!") during the end-of-the-week launch event—all courtesy of the coordinator of the three camps, Brian Woodard, and his AeroE team.
---
July 11, 2018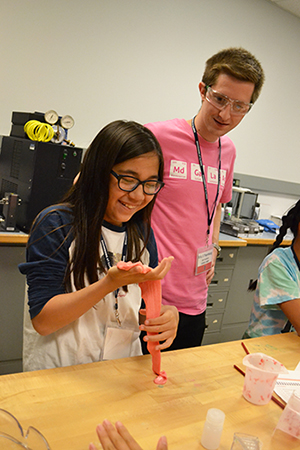 A Mid-GLAM camper plays with the color-changing slime she just made.
What better way to get a bunch of middle school girls excited about Materials Science and Engineering than to let them explore color and making things pretty? That's exactly what Mid-GLAM, named after its sister camp GLAM (Girls Learn About Materials) did by exposing them to different hands-on activities and design challenges. Mid-GLAM is a summer day camp for middle school girls interested in learning about Materials Science and Engineering. It made a second annual debut from June 25 – June 29 and served students from all over the state.