Top STEM Education Stories
Our vision for Illinois as a land-grant institution is to foster accessible, effective STEM teaching and learning—from preschool through graduate education—
at local, state, and national levels, thereby preparing a highly able citizenry and diverse STEM workforce to tackle pressing global challenges.
Current STEM Ed Highlights
September 18, 2017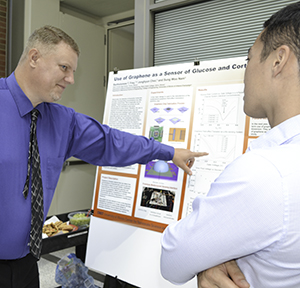 A nano@illinois teacher presents his research
In its fourth and final year, the nano@illinois Research Experience for Teachers (RET), funded by the National Science Foundation, offered eleven P–20 STEM teachers the opportunity to do cutting-edge research in the field of nanotechnology under some of Illinois' premier researchers in the field. The second emphasis of the RET was for teachers to develop modules related to their research that could be used in their own and other classrooms. The goal of the RET is that, based on teachers' resulting enthusiasm, content knowledge, and increased familiarity with possible careers in the field, along with the modules they develop, which will be available for use by other teachers as well, a larger number of students will be exposed to the field.
---
September 12, 2017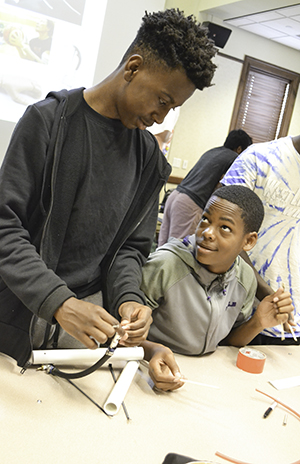 Twenty-seven Urbana High School athletes, mostly underrepresented minorities, participated in the first-ever I-STEM Summer Camp from August 7–18. The goals of the camp were to 1) expose participants to various STEM fields so they know what their options are when choosing their career/college path; 2) to build teamwork and lab skills in different STEM disciplines; and 3) to allow students to experience what STEM research is about. Various STEM departments on campus were each responsible for one day of activities during the two-week camp.