Top STEM Education Stories
Our vision for Illinois as a land-grant institution is to foster accessible, effective STEM teaching and learning—from preschool through graduate education—
at local, state, and national levels, thereby preparing a highly able citizenry and diverse STEM workforce to tackle pressing global challenges.
Current STEM Ed Highlights
NanoSTRuCT Introduces BTW 3rd Graders to Nanoscience and Nanotechnology
December 9, 2014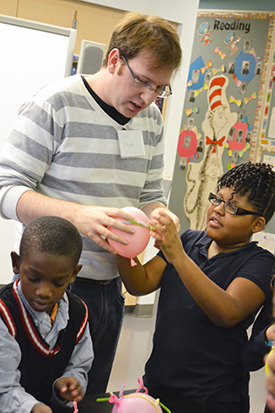 NanoSTRuCT co-founder Alex Cerjanic interacts with a BTW student during an activity.
In 2014, Illinois graduate students have been sharing their expertise in nanotechnology with Booker T. Washington STEM Academy (BTW) 3rd graders as a part of a student-created/student-led outreach program— NanoSTRuCT (Nanoscale Science and Technology Resources for Community Teaching). The brain child of two Ph.D. students, Alex Cerjanic and Brittany Weida, NanoSTRuCT is partnering with BTW to do what its name suggests—teach the community (especially youngsters) about nanotechnology.
---
MechSE's Benjamin Sohn Gives Local Kids a Taste of Engineering
December 2, 2014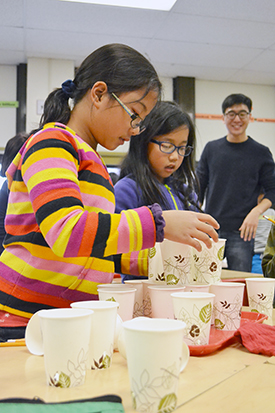 Two Dr. Howard third graders design then construct their hot chocolate machine as Benjamin Sohn (right) looks on.
Benjamin Sohn, an Illinois Ph.D. student in Mechanical Science and Engineering, devoted his lunch hour several Tuesdays this fall to sharing his love of engineering with local youngsters at Dr. Howard School. Working with students in Ellen Elrick's 3rd grade class, Sohn taught the students some engineering principles while showing them how fun engineering can be.
During each of the four sessions, after a brief period of instruction, the kids would tackle a hands-on activity designed to teach them an engineering principle...