STEM OPEN Unconference Fosters Networking Among Campus STEM Outreach Folks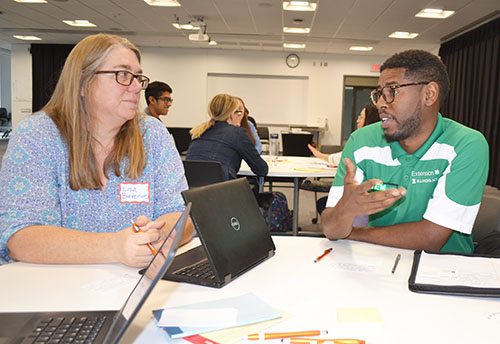 Keith Jacobs (right), a 4H Extenstion STEM specialist chats with Lisa Bievenue, Director of Informatics Programs during one of the activities.
November 21, 2019
Why hold a campus event about STEM outreach and public engagement? The recent STEM OPEN (Outreach & Public Engagement Network) Unconference sought to do just what the name of the group implies: to allow STEM outreach and public engagement folk to network. So on Nov 8, 2019, around 23 experts from the university community, as well as Parkland, got together to build a network and to share ideas and expertise related to an area they're all passionate about: STEM outreach and public engagement.
The unconference was organized by three women whose passion for STEM education outreach is reflected in the many STEM education activities they organize: Lara Hebert, the Grainger College of Engineering Outreach and Public Engagement Coordinator; Sharlene Denos, the Associate Director of Education and Inclusivity at CPLC (the Center for the Physics of Living Cells); and Pamela Pena Martin, the Outreach Coordinator at I-MRSEC (the Illinois Materials Research Science and Engineering Center).
While 23 people were able to attend the unconference, almost twice as many actually filled out the registration RSVP forms. For instance, many who were interested in being involved in the network itself but weren't able to make the unconference went ahead and filled out information about what they do, indicating an interest in the next thing the group does.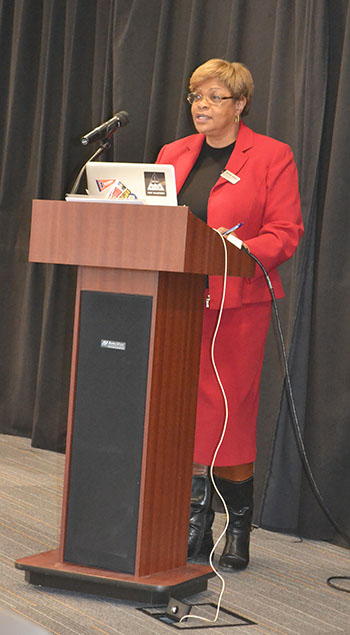 Dr. Wanda Ward, the Executive Associate Chancellor for Administration and University Relations, makes her opening remarks.
Based on data presented during the unconference, representatives from 38 different programs or units had filled out the web form. They serve populations comprised of students, teachers, clientele who are under-represented in STEM, bilingual or non-English-speaking persons, the general public, even incarcerated individuals or families. Populations they serve range in ages from pre-school students through the elderly. Plus, while the majority of their initiatives focus on STEM (science, technology, engineering, and mathematics), others specifically address mentorship, careers, social or family science, advocacy/policy, tutoring, even fine arts.
Pamela Pena Martin calls this diversity among the participants "atmosphere," indicating that it was one of her favorite things about the unconference: "Having people from all across campus (and beyond) who care so much about outreach and public engagement but may not have ever met each other. It was wonderful hearing about what others do and watching connections being made," she says.
Unconference activities addressed a number of topics related to STEM public engagement. For instance, presenting opening remarks at the unconference was Dr. Wanda Ward, the Executive Associate Chancellor for Administration and University Relations, who encouraged participants that they could be catalysts of societal change in regards to STEM education:
"You will help transform bold ideas into engineering and scientific realities, transform low expectations for some groups of U.S. learners into the standard expectation that all students and community partners can learn and can contribute, transform the observation from seeing things as they are, and saying, 'Why?' to enabling all of our students, faculty, and community members to dream things that never were and say, 'Why not?'"
Regarding Ward's opening statement, Pamela Pena Martin says it was another of her favorite things about the unconference. She calls Ward's assertion about the importance of outreach and public engagement in the mission of the University "extremely powerful." Pena Martin particularly appreciated Ward's statement "Outreach should be wholly integrated, not an 'add-on.'" "This is critical to making sure we are being effective at reaching our education goals, as well as for building more meaningful and lasting connections with the community around us," Pena Martin explains.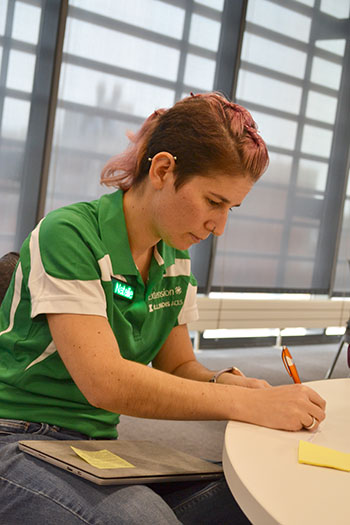 Natalie Becerra, a 4H Extension Outreach Associate crafts her lightening pitch.
Following Ward's opening remarks was a lightening pitch mixer, during which , each participant was to perfect his or her lightening pitch. So after jotting down what their unit does to further STEM outreach, participants then "pitched" their ideas to other participants, improving their talk as they went along, based on feedback and what others had shared in their pitch.
One key activity of the event was the Deep Dive Breakouts. Hebert acknowledges that the idea was to: "dive into some issues or topics that we share and have some conversations about: 'What would it look like if we got it right?' 'What are some things that get in the way?' 'How might we tackle some of those ideas?'"
So for this activity, participants broke out into groups based on topics of interest to them. Of the five topics broached by the co-presenters (Community Partnerships, Inclusion and Access, Sustainability, Participation, and Communication) participants participated in the first three. Groups were to explore their topics by addressing: 1) what the area would look like if we got it right; and by 2) identifying assets; 3) documenting challenges; and 4) recommending steps to address the issue. The breakout groups then shared with the entire group what they had come up with.
Finally, participants compiled a list of proposed next steps to keep the network's momentum going, including a second networking event, a listserv, a website or portal that lists outreach providers, a community-facing event for stakeholders, and periodic STEM outreach gatherings.
How did the unconference come about? Lara Hebert reports that early on in her career at Illinois, she and the other co-organizers of the unconference, Denos and Pena Martin, had met to network. She mentions some of the things that they had talked about:
"We all kind of do things in our own silos," she admits, adding that another issue is, "We don't have a whole lot of opportunity to talk about best practice and to think about what strong outreach engagement looks like."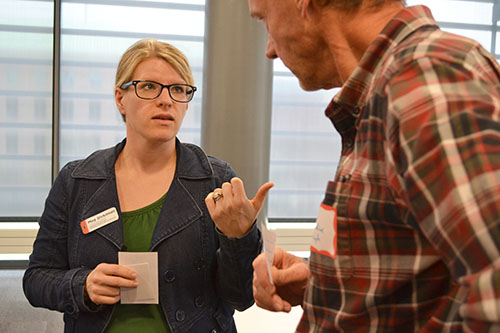 Meg Dickinson, Director of Communications at the Beckman institute, shares her lighting pitch with David Bergandine, a science teacher at University Laboratory High School.
Another area they discussed was inconsistency of outreach opportunities across the community. "Are we constantly serving the same people and overloading people in one spot while there are gaps in other areas? We really don't know that unless we're talking to each other."
So after grappling with these various issues for a period of time, the three decided, "Okay, we just need to do something!" So they did, and organized the STEM OPEN Unconference. In case readers aren't familiar with the unconference concept, Hebert describes how it works.
"So it's no main speaker," she explains. "Everyone shares. Yeah. Everybody. Everybody in the room is the expert. It's not one expert at the front of the room, but everybody brings expertise to the table. Just a brilliant idea. So everybody comes with their questions, and everybody comes with their expertise and experience."
So they invited folks in the community who are interested in STEM outreach and public engagement to attend the unconference "with the hope that it's going to build a network that'll continue in conversation after the session." They also created the STEM Outreach & Public Engagement Network (OPEN), in the hopes that their first effort and subsequent events would foster networking amongst staff, faculty, and students, with the idea that sometime in the future they would be able to open it up to non-university folk across the community.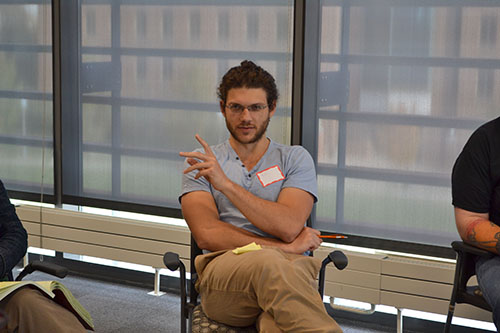 Luis Miguel de Jesus Astacio, a Physics PhD student who is part of CPLC and a member of both SACNAS and ENVISION, shares his take on outreach.
One member of the campus' STEM outreach community who attended the unconference was Physics PhD student Luis Miguel de Jesus Astacio, who researches microbial ecosystems. He uses them as highly tunable models to understand mathematical principles that govern how of large-scale ecosystems work. A part of CPLC, he's also a member of two RSOs which have strong outreach components, SACNAS (Society of ??) and ENVISION, whose sole purpose is outreach. He shares that he participated in the unconference because was excited to meet others who are passionate about outreach and inclusivity. In addition to networking, his goal was "ultimately expanding the reach and impact of the outreach initiatives I'm interested in supporting," and was also looking forward to "participating in discussions with other local outreach leaders about better management of outreach initiatives."
Regarding the unconference's impact, de Jesus Astacio says that, "Short-term, meeting these people led to a renewal of my conviction for the importance and urgency of the work that each one of us is doing within our own spaces." Regarding the gathering's long-term impact, he believes it has the potential to "translate to impactful community-level initiatives in the future."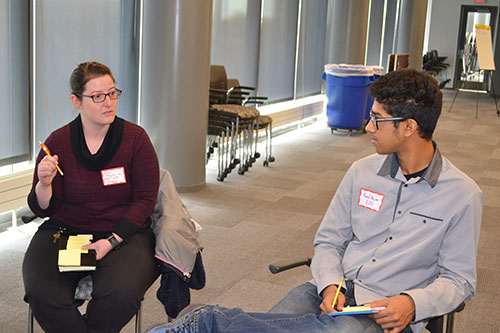 Raya Hegeman-Davis (left), School University Research Coordinator at the Bureau of Educational Research, chats with Engineering Outreach Society's Raad Najam about outreach in schools.
Regarding STEM OPEN's role in the community, Pena Martin says she hopes that the network "creates an easy way for community groups to easily identify campus (Illinois and Parkland) groups involved in outreach and public engagement related to STEM and STEAM." She also hope it helps steer those who are new to campus (students, postdocs, new faculty and staff, etc.) toward those doing this type of work so that they can easily become involved or establish new programs that enhance what is already here.
Finally, Pena Martin hopes STEM OPEN becomes a community. "I hope that it helps those of us doing outreach and public engagement work to be able to learn from each other and build 'best practices,' apply new education research findings, etc., in order to help make sure we are striving toward effective, inclusive, and sustainable programs."
Agreeing with Pena Martin that fostering a community is key: Hebert shares the main reason she, personally, wanted to help start a STEM-outreach-related network.
Brandi Barnes, a Health Disparities Research Development Manager at the Interdisciplinary Health Sciences Institute, shares ideas with the Inclusion and Access group.
"I have a selfish reason. And that reason is because I would really like a community of practice to be able to engage in conversation around best practices of STEM engagement," she admits, adding that, "I work better when I can share information with others and I can learn with them and from them." She also acknowledges that, as she's adjusted to her position, she's come to the realization that "We really don't do a lot of sharing, and we can also do a better job of letting the folks outside of our walls know about what we're doing."
While the overall, long-term impact of the unconference remains to be seen, the unconference format appeared to be quite effective. All participants were engaged, meeting other participants, and openly sharing their successes, failures, and expertise while brainstorming to come up with solutions. Regarding the lack of dead space and the participant engagement, Hebert says: "Because it's stuff that everybody is an expert in. It's something that everybody is feeling tension around—something that they're passionate about."
---
Story and photographs by Betsy Innes, Communications Specialist, I-STEM Education Initiative.
For additional I-STEM articles highlighting STEM Education Outreach and Public Engagement policy, please see:
More: 2019

Unconference participants find out about each other while presenting their lightening pitches.