RET Teachers Experience Multidisciplinary Nanotechnology Research via nano@illinois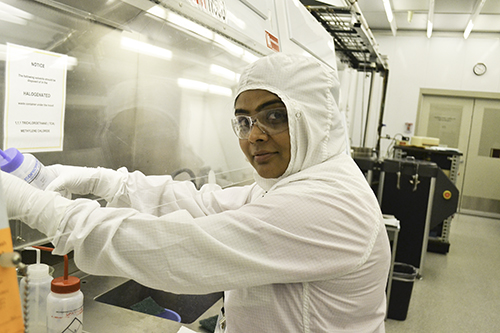 RET participant Bharathi Subramaniasiva performs a proceedure at a hood in one of
Illinois'
labs.
August 3, 2015
When the twelve P-20 STEM teachers participating in this summer's iteration of nano@illinois Research Experience for Teachers (RET) arrived on campus to do research in some of Illinois' state-of-the-art labs under some of Illinois' premier researchers, they learned a whole lot about their research topics. And while learning about converting 3D files to DNA brick objects, or receptor differences in cancer cells, or graphene, or that micro cavities can trap light between mirrors, they discovered one overarching fact about nanotechnology research at Illinois: it isn't all housed in one particular department. While nanotechnology is about things that are really, really small, nanotechnology research on campus is really big and is spread out across numerous disciplines.
Sarah Hughes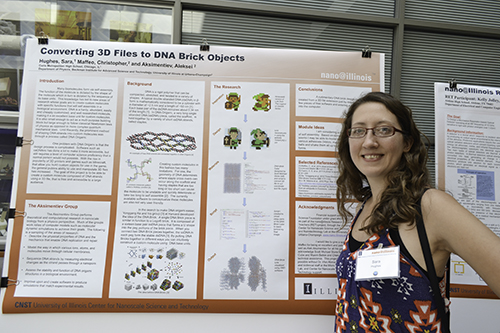 CPS teacher Sarah Hughes shares about her research during the RET poster session.
Chicago Public Schools teacher Sarah Hughes discovered firsthand that "Nanotechnology is a very integrated science. There is no boundary between chemistry and physics and biology and mathematics and computer science. They are all together. In engineering, it's all together. I was really impressed by that."
Hughes, who teaches freshmen and sophomores Earth Space Science and Chemistry participated in the RET because she loves to learn: "Anytime there's opportunities for me to learn new things, I'm all about that."
In addition to nanotechnology's multidisciplinary nature, another take-away Hughes intends to take back to her students involves a paradigm shift regarding the process of science: "Science is not the scientific method that we teach them out of the textbook," says Hughes. "It's a lot of trial and error, and it's very fluid, and you do stuff as it comes to you, not in some specific order."
While Hughes is normally teaching students about science or the results of some research, one thing she appreciated this summer was that she got to actually do that research herself: "I'm a career teacher. I've never been anything but a teacher, and so getting to see what it looks like on the research side of science, it's really opened my eyes. It's just a new perspective."
Having experienced research herself, Hughes says if a student announces, "I think I want to do research," she'll respond: "Absolutely. Do it! Because there is so much opportunity, and there's so much flexibility, and it's not lke a one path type of deal."
Hughes' research involved converting 3D files to DNA Brick Objects. Her results? "That you can take any 3D file and turn it into a DNA brick object." Did she do it? "Yes!" She replies.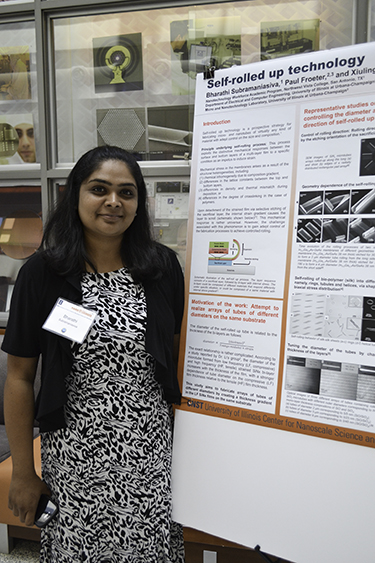 Bharathi Subramaniasiva presents her research on Self-Rolled Up Membranes.
Bharathi Subramaniasiva
Bharathi Subramaniasiva, who directs a community college Nanotechnology center in San Antonio, Texas, joined the RET both to network and to explore the multi-disciplinary nature of nanotechnology.
"I was interested in this program because it's good to open up new opportunities for me to network, learn from my peers, and cross different disciplines." says Subramaniasiva. Excited to be exposed to biomedical engineering and chemical engineering, she says: "It's kind of a crash course for me."
Subramaniasiva researched strain-induced, self-rolled up membranes—"It's like stretching something and then it closes and rolls up," she explains, then elaborates on its cross-disciplinary nature:
"My experience was with chemical synthesis and magnetic application…The beauty of this field is that it can branch into any of those sciences and technology. It's not just confined to chemistry or biology.'
Like Hughes, Subramaniasiva, who got her Ph.D. in India, appreciated learning new things.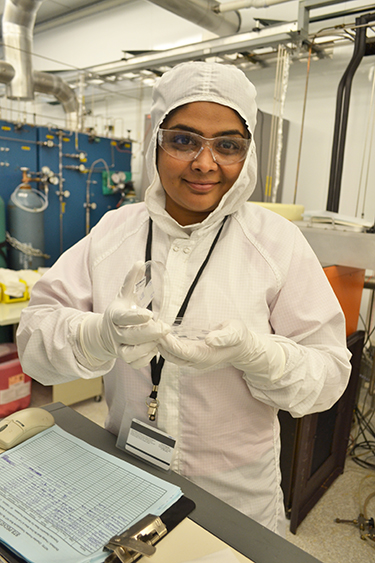 Bharathi Subramaniasiva works on her research on Self-Rolled Up Membranes in MNTL's cleanroom lab.
"Anything I learn from here will be new for me. This is one top university where research happens so I could meet different people. We have a lot of informative tours and research seminars that are definitely intellectually intriguing you know. It was so awesome to hear from cutting edge researchers."
In addition to directing her Nanotechnology center, Subramaniasiva, who also teaches nanotechnology and physics, was particularly excited about being able to implement some of the instructional modules there.
"We're developing instructional modules for the students. I'm preparing modules based on my research. As a program coordinator, I have to teach it in the curriculum, so I plan to incorporate some of these instructional models directly in my curriculum."
In fact, she identifies these modules as one of the strengths of the program:
"It is one of the best RETs across the nation. Most of them are just giving some opportunity to do research, but this is giving an opportunity to do research and double up on instruction modules based on our understanding. That's going to be disseminated to different technology hubs, and that'll be one of the best resources."
How much did she enjoy Nano@Illinois RET? She hopes to come back if given the opportunity
Azza Ezzat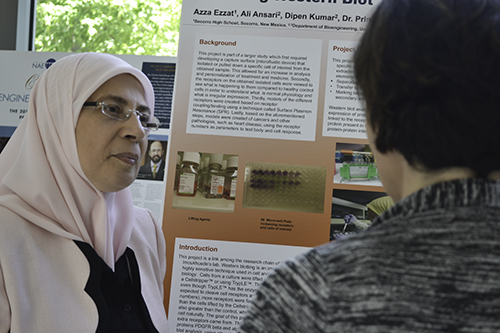 During the recent RET poster session, Azza Ezzat shares with a visitor about her research on receptor differences in cancer cells.
Like Subramaniasiva, Azza Ezzat, who teaches dual credit courses in biology, human anatomy, physiology, and forensic science at Socorro High School in New Mexico, also participated in the RET in order to network: "I wanted to know teachers outside of New Mexico because it's a different setting than here. I wanted to see what they're doing differently here."
Ezzat, who has an MD degree and did her residency in internal medicine, candidly shares a more personal reason: she also participated for the sheer joy of being in college again and learning new things. "I can go back to being a little kid in college. I wanted to come and learn something new and see how kids feel, because it's been a long time since I was a student."
Ezzat, who worked in the Imoukhuede lab, did a process called Western blotting 'to explain unexpected receptor differences in cancer cells. She explains it as "knowing how much protein is in different parts of a cell and to see where it is originating from—the nucleus, from the cytoplasm, or from the cell membrane. The research goal is to see what could be causing this to happen."
Will Ezzat be able to apply what she's experienced to the classroom? "Yes, I'll use different devices, but I learned a lot."
Tom Gelsthorpe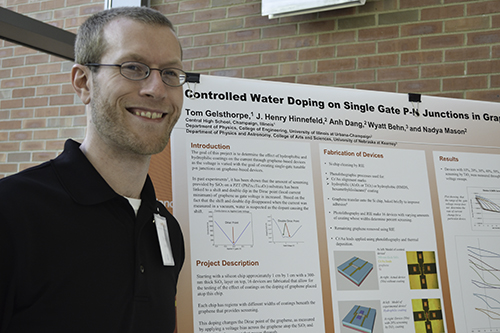 During the recent RET poster session, Tom Gelsthorpe presents his research on graphene.
Like his RET cohorts, Tom Gelsthorpe, a chemistry teacher at Central High, appreciated the RET's cross-disciplinary emphasis. He says one of the biggest things he learned was "how broad a knowledge base you need to be able to do research, and how almost nonexistent distinctions between different scientific disciplines are." He reports that while he was technically in a physics lab, there was "definitely some chemistry involved," and he admits dabbling in materials science, electrical engineering, even computer science: "I had to learn a little bit of coding in order to do this stuff."
Gelsthorpe, an 11-year veteran teacher, joined the RET to do research. "I've never done a research experience before as an undergrad, so I've never spent a really significant amount of time in the lab doing research. While he's done programs on campus and worked for Nano-CEMMS, he was excited about Nano@illinois' double-pronged emphasis: "This one's kind of like, 'Hey, let's go ahead and do some actual scientific research and then, later on, we'll figure how to turn that into something that we can take to the classroom.
He was also excited to research graphene, which he calls "a hot new thing for a few years, so when I saw that that was one of the options to study, I said, 'OK!'
What can Gelsthorpe take back to his classroom? "Well, I've learned a whole lot more about graphene, and I can talk about the growth process on that one because I got some firsthand experience with that for sure. And then the module that I'm planning to do is actually trying to replicate the research I did this summer to some extent."
He reports getting to "play around quite a bit with some kind of paper and pencil circuits" (graphene, of course). If he can't use them in his chemistry class, two physics teachers he works with told him, 'Hey, I'd love to do that!'"
Steven Pavlakis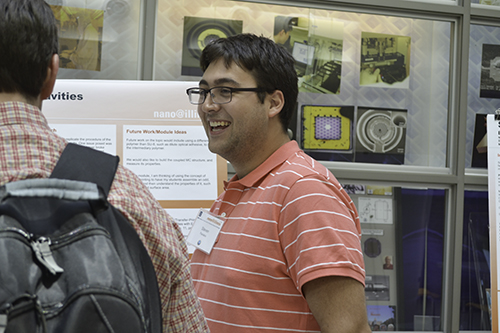 Steven Pavlakis shares about his research on micro cavities during the RET poster session.
The "new kid on the block," Steven Pavlakis, who just graduated from Illinois in May, will teach geometry at Urbana High this fall. "I'm ecstatic. I can't wait!" he says.
Pavlakis has always dreamed of doing research, to see "what being on the cutting edge was like." But "being a pure math major, that's not really something you can do...There's no lab experience to have," he explains. So for him, this summer was a dream come true: "It's exactly what I was looking for," he explains. "I've gotten to work in the lab on cutting-edge research, and do exactly what I was hoping to do. So it's been a great fit for me."
His research involved trying to create micro cavities, layers that can trap light between mirrors. While he won't be able to implement that while teaching geometry, he does plan to try to incorporate micro-printing into his classroom.
Pavlakis agrees that one benefit of the RET was networking: "I've gotten to meet a bunch of teachers from the area that I maybe would not have gotten to know. And also teachers from outside of my area…perhaps without this program, I would never have met those people and made those connections. So networking has been fantastic."
He also believes the experience has made him more well rounded. "I've gotten to see what's going on in the real world, the science room…Being in a pure math vacuum, we don't really see what's going on "north of Green Street" here on campus. I've gotten to see what's really going on there."
He also now feels better equipped to explain to students why they should study a given subject.
"I can give my kids an opportunity to understand what's going on there if they have questions about careers…People are always like, 'When am I going to use this? I'm never going to use math.' Well I can tell you exactly where you can use it, because I did it this summer."
Lynn Wiedelman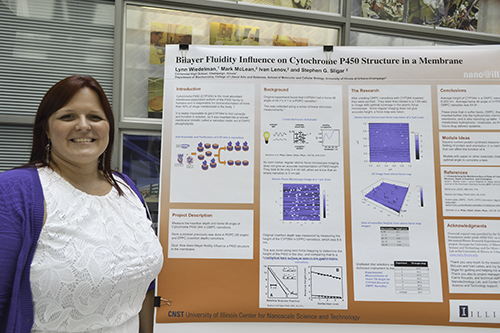 Lynn Wiedelman shares about her research during the RET poster session.
Lynn Wiedelman, who teaches biology to Centennial High freshmen, was also excited to experience "real science" and to share her research experience with her students this fall. Her take-aways? "I learned that research is hard, and it takes a long time. But it can be very rewarding, and I'm excited to bring back my experiences to my students this year in my classroom and be able to talk about what real science is."
---
The nano@illinois RET is led and administrated by:
PI Xiuling Li, Electrical and Computer Engineering
Co-PI Lynford Goddard, Electrical and Computer Engineering
Irfan Ahmad, Executive Director, Center for Nanoscale Science and Technology, and nano@illinois RET Program Manager
Carrie Kouadio, Program Coordinator, Center for Nanoscale Science and Technology, and nano@illinois RET Program Coordinator
nano@illinois RET is managed by the University of Illinois Center for Nanoscale Science and Technology at the Micro and Nanotechnology Lab.
---
Story and photographs by Elizabeth Innes, Communications Specialist, I-STEM Education Initiative.
More: MNTL, Nano@illinois, RET, Summer Research, Teacher Professional Development, 2015
For additional istem articles on the Nano@illinois RET, please see: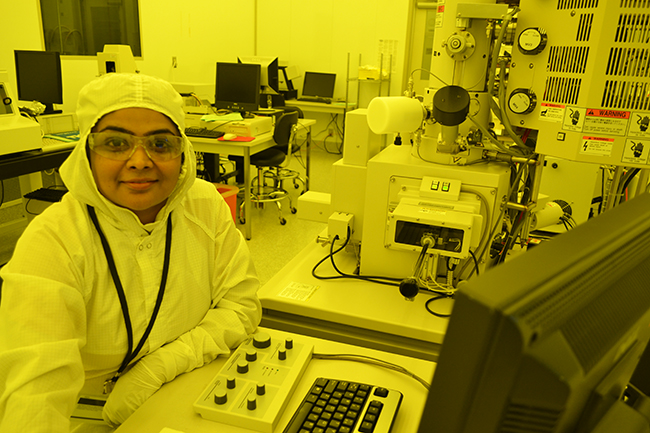 Bharathi Subramaniasiva works on her research in the MNTL clean room.