Local K–5 Students Learn about DNA and Genomic Research at IGB's Genome Day
November 30, 2016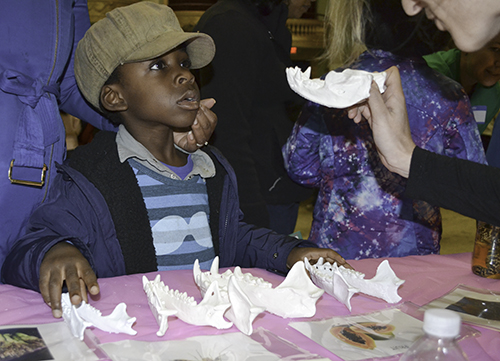 A local youngster learns about the role genes play in animal development while experiencing fossils and skeletons.
Around 500 visitors, both young and old, spent their Saturday afternoon on November 12th at Genome Day, learning more about DNA and genes. Sponsored by the Institute for Genomic Biology (IGB), the event featured fun, engaging, hands-on activities taught by 120+ Illinois students, staff, and researchers associated with IGB who were on hand at the Orpheum Children's Science Museum, where they shared their passion for genomics and introduced the visitors to the world of IGB's research.
Nick Vasi, IGB Director of Communications, describes the goal of Genome Day: "So K-5 kids get an introduction into what DNA is, what genes are, what genetics are." He says the outreach also emphasized things like "how food fuels your body, or how DNA works inside you, or how cells are made, or the size of things—like how big a cell is, how big DNA is, things like that.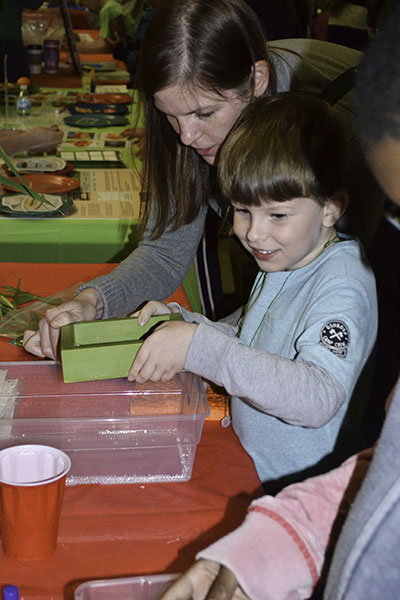 A young Genome Day participant at the "Plant Plasticity" activity learns about how plants change their appearance via a genetic response to environmental stresses.
Participants received a "passport" that was stamped after they completed each of the 18 activities listed below. The secret code that was revealed upon completion? "My genes are not pants!"
Short Names
Dancing Plants
Build-a-Bone
Plant Plasticity
Tiny Things
Krazy Chromosomes
DNA Extraction
Delicious DNA
Giant Genomes
Glowing Genes
Crack the Code
Extremophiles
Mammal Phylogeny
Your Senses
Genome Assembly
Bio Bistro
Punnett Eggs
Broken DNA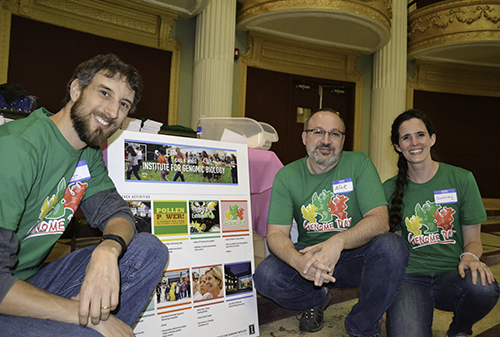 Left to right: the Genome Day planning committee: IGB Postdoc Dan Urban, Nick Vasi, IGB Director of Communications, and Courtney Cox IGB Outreach Activities Manager
While advertised as for K-5 students, Genome Day appealed to visitors of all ages, ranging in age from very young (infants) to senior citizens—local grandparents who tagged along to enjoy the event with their grandkids.
"We say it's K–5," says Vasi, "but it's really learning for anyone who wants to learn more about science or get more interested in DNA or genetics."
According to Vasi, between 350 and 500 people usually attend the event each year. "So it's just a wonderful way for us to get engaged with the community," says Vasi.
Vasi adds that it's important to not only engage the community, "and have them experience what's going on in the scientific disciplines, but also let them know what kind of research takes place at the IGB."
But in addition to exposing the public to IGB's research, Vasi says another goal is to show visitors how the research might impact them personally: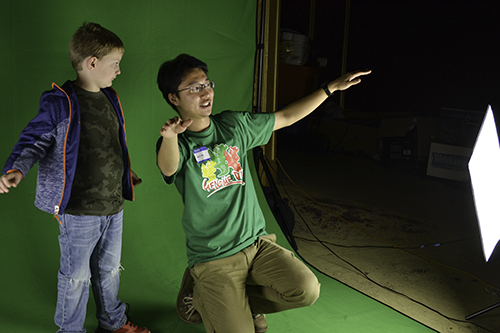 Above: A local youngster and
Illinois
grad student at the "Dancing Plants" activity are positioned in front of a green screen in order to see themselves "dancing with plants."
Below: This is the projection the youngster and grad student above saw of themselves "dancing with plants."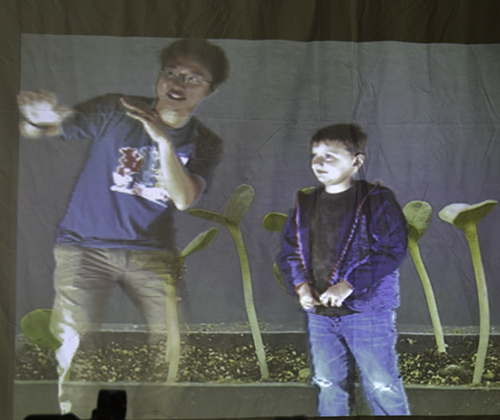 "Our scientists and our students, our post-docs, and our faculty— they're all working on these really interesting, real-world issues that might apply to your life in ways you never understood before. And that's one of the ways we like to bring this to the community."
Vasi admits that for him personally, he sees the event as a way to recruit more youngsters into science….maybe even to Illinois and the IGB.
"I really like to see that the young kids get an interest in science. My biggest hope is that they'll get enticed by something they see today and maybe a couple of years down the road, they get more interested in science, and a couple of years down the road after that, they maybe come to the U of I, and maybe they come through the IGB one day. I would love to see more scientists come out of engagement activities like this."
IGB's Communications and Outreach Specialist, Katie Metcalf, hopes the young visitors learn some things at the event that they're not necessarily exposed to at school.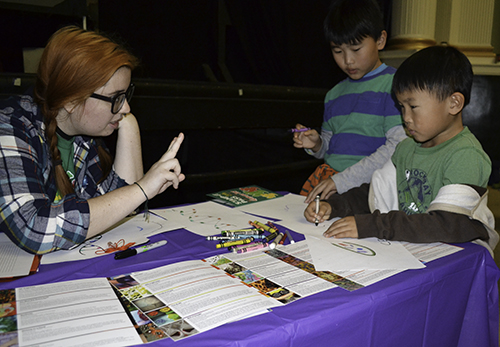 Katie Metcalf (left), IGB's Communications and Outreach Specialist, interacts with a couple of youngsters during IGB's Genome Day.
"Genomics isn't really taught in schools, and we really appreciate the opportunity to bring this kind of education to our community," she says. And while it's part of her job to be at the event, Metcalf admits that even "If it weren't mandatory, I would've volunteered anyway. This is such a great event."
In charge of a coloring activity, Metcalf was really impressed by how engaged the young visitors were: "[The kids] have been really into coloring. I honestly did not expect that. But they've been so bright, they're remembering these big words, they're really engaging with these concepts."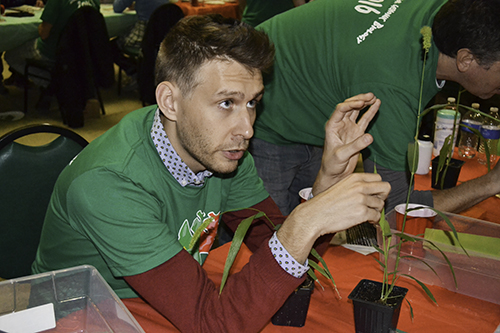 IGB post-doc John Ferguson explains about Phentypic Plasticity, how plants can change their appearance via a genetic response to environmental stresses.
Also excited about the level of the children's engagement was John Ferguson, an IGB post doc who works in Andrew Leakey's lab, which studies the mechanisms of plant responses to global change, including rising CO2 and O3 concentrations, temperaturesc and drought stress. Ferguson believed he definitely had interacted with some future scientists.
"Some kids are really engaged in it, and it's really exciting to see; the future looks bright, for sure."
Ferguson says he participated because he wanted to give something back to the community. "I would have loved something like this when I was growing up," he acknowledges, "and there wasn't anything around that I could remember. So it's a really nice opportunity to try and teach kids and the general public about the kind of research we're doing."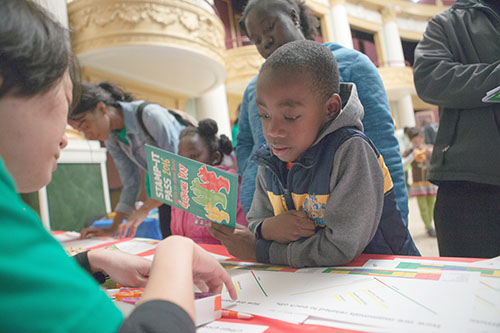 A young visitor prepares to get his "passport" stamped, indicating that he had completed an activity (image courtesy of Kathryn Faith, IGB).
Helping out at the animal skeletons and fossils exhibit was a local high school student, James Carter. A junior at Central High, Carter says he helped with the Genome Day exhibit to get more experience in his chosen field: zoology.
"My mom signed me up!" he admits. "She said it would help me later on in my work field. I want to be a zoologist." How did he decide to be a zoologist?  He indicates, "I wanted to know the behavior of animals, so I looked up what I have to do to do that, and I have to be a zoologist and neurologist."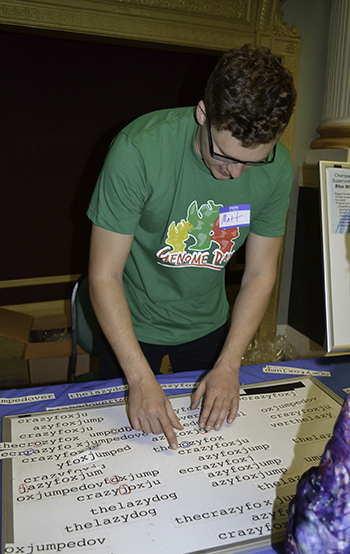 NCSA grad student Matthew Kendzior explains computational genomics to a young visitor at Genome Day.
Ludwilla Mensor of NCSA, who says she's been participating in Genome Day since it started in 2012, helped staff a booth about the computational aspects of genomics.
"Most of the activities here deal with experimental aspects; they're much more hands-on and perhaps more fun, but there's a whole big area that's rapidly developing in genomics that's very important and, without which, would be very difficult to move forward in personalized medicine—and this is computational genomics."
She explains that their exhibit dealt with short sequence alignment and genome assembly. To help participants better understand, she and her colleagues at the booth tried to explain the concept by having participants match short pieces of a sentence, "The crazy fox jumped over the lazy dog," with one another to eventually construct a full sentence.
A local mother who says her daughter is interested in science and wants to learn, brought her to Genome Day in hopes of exposing her to things kids aren't currently getting in school.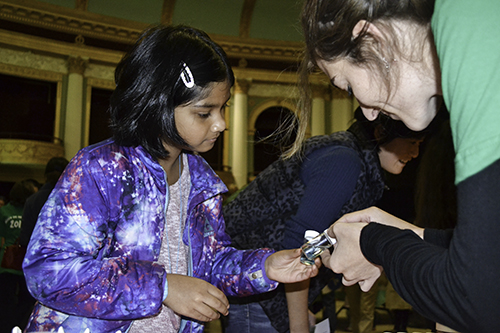 A young visitor to Genome Day learns about genomics as she chats with an
Illinois
grad student.
"I think they have exhibits that are so hands-on, this is the best place for her to ask questions and learn about new things that the school might not [offer]…they'll get to it, but not yet. So she gets an opportunity to get excited about what to look forward to!"
---
Story and photographs by Elizabeth Innes, Communications Specialist, I-STEM Education Initiative.
For additional stories about Genome Day, see:
More: Biology, K-12 Outreach, Orpheum, 2016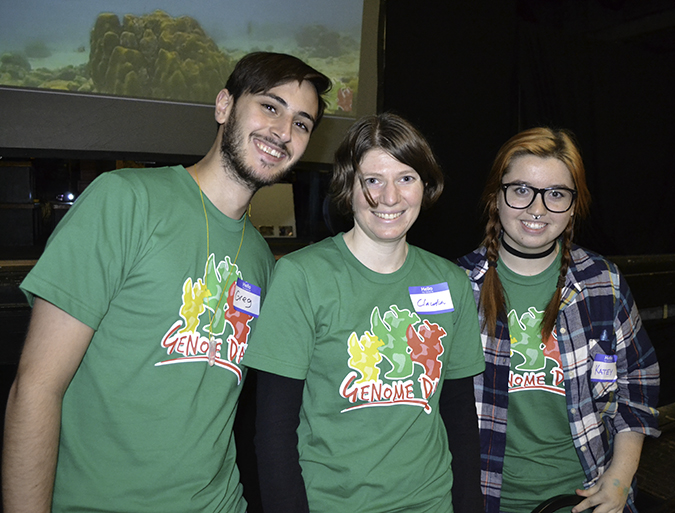 IGB staff Greg Toreen, Caudia Lutz, and Katie Metcalf were on hand at Genome Day to share with youngsters their passion for genomics.