Annual Gathering for Gardner Event Celebrates Recreational Mathematics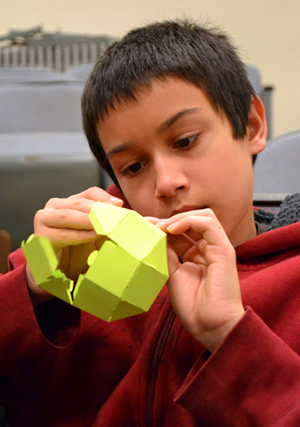 G4G attendee Ishan Murphy folds an Archimedean solid.
October 30, 2012
If Captain Jack Sparrow has 100 gold doubloons, how can he distribute them amongst his ship's crew so that he keeps the largest share and still keep the crew happy enough to avoid walking the plank himself?
This is just one of the puzzles posed to attendees of this year's Gathering for Gardner celebration. The event, which took place on October 26 at Altgeld Hall, was one of many like it taking place around the world in celebration of the 98th birthday of mathematician and writer Martin Gardner. The 3rd annual Champaign-Urbana Gathering for Gardner event (G4G) was co-sponsored by the University of Illinois Department of Mathematics and Champaign-based Wolfram Research.
Gardner, who studied philosophy at the University of Chicago, had no formal training in mathematics, but did have a great interest in puzzles and the uses of math in things like magic tricks and the writings of Lewis Carroll and others. From 1956 to 1981, Gardner brought recreational mathematics to the masses via his column "Mathematical Games" in the magazine Scientific American.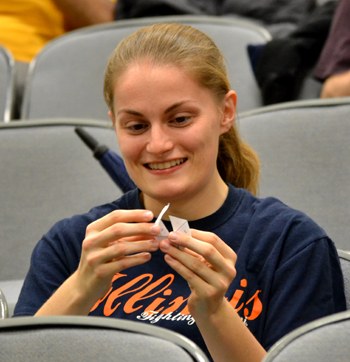 Student Melinda Lanius folds a hexaflexagon.
Gardner's very first "Mathematical Games" column featured the hexaflexagon. The hexaflexagon is still popular today and C-U G4G attendees had the opportunity to make one themselves at the Oct. 26 event. They also learned to match Archimedean solids to their duals, see a 3D printer create tiny models of Altgeld Hall and other objects, solve math-based puzzles, and see demonstrations of other recreational mathematics concepts in action. Presenters included students, faculty, and staff from the Illinois Department of Mathematics, Wolfram Research, and the MATRIX Math Club. Attendees came from all walks of life and age groups.
Learn more about the Gathering 4 Gardner Foundation and Celebration of Mind events at www.gathering4gardner.org. For more on hexaflexagons, check out Vi Hart's videos, or build your own hexaflexagon!
Author/photographer: Christy Glaze, I-STEM Education Initiative
More: Champaign-Urbana Community, Open House/Expo, IGL, K-12 Outreach, Math, 2012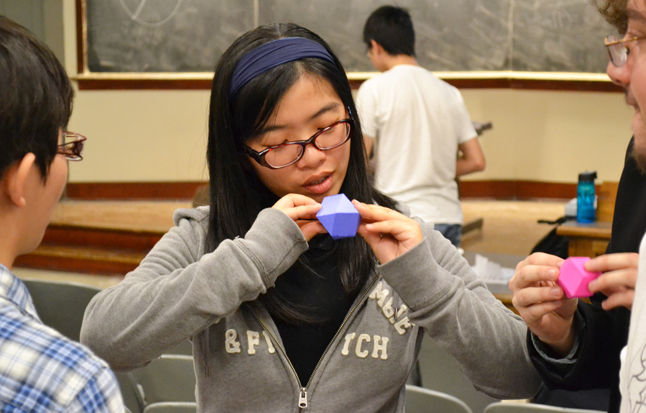 Illinois
student Yuxi He studies a dual that matches the Archimedean solid of another Gathering for Gardner attendee. Participants had to work together to match the solids and duals.