High School Girls Experience Illinois Engineering During G.A.M.E.S. Camp
July 18, 2012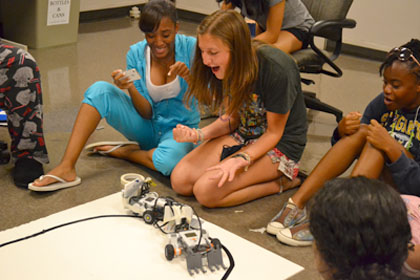 A group of Robotics campers cheer and bemoan their SUMObots. A robot named Gerald eventually won.
The annual Girls Adventures in Math, Engineering, and Science (G.A.M.E.S.) camp brought approximately 140 high school girls to campus this week.
Girls from around the nation traveled to Champaign-Urbana in the name of higher learning in engineering—and a little recruiting:
"The first goal is that every camper leaves with at least an appreciation for engineering," College of Engineering Associate Dean and Director of Women in Engineering Susan M. Larson said. "Next, we want them to know that this is a top place to study engineering, that we do want them to become engineers, and that we would like them to do it here. There are several layers of recruiting. Hopefully this can turn into a nice little pipeline."
Larson said this was the second year of G.A.M.E.S. as a completely high school camp. The camp started for middle school students and eventually began accepting high school students as well. The change to only high school students allows participating University teachers to cover higher level material. Larson also noted that high school students are closer to picking a field of focus and a university.
This year, the camp offered seven engineering focuses: Robotics, Chemical, Enviornmental, Electrical, Material, Biological and Aerospace. Girls were able to choose which field they prefered to focus on for the week. Aerospace, in its first year in the program, was the first to fill up.
"Aerospace used to have their own camp, but it would be something like 36 boys and three girls," Larson said.
Around 40 current engineering students took a week out of their summer to participate as either lab assistants or counselors in the camp. Caroline Cvetkovic, a second year graduate student in Bioengineering, served as a lab assistant.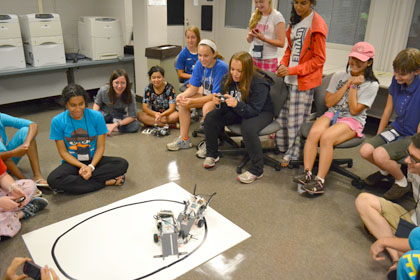 G.A.M.E.S. participants enjoy a demonstration of two robots following their programs during a mock battle.
"This is my fourth year with G.A.M.E.S.," Cvetkovic said. "It is really cool to be able to teach things that I just learned myself. I just want these girls to know that engineering is within their reach. I want them to see that they can do it."
Cvetkovic accompanied fellow second year Bioengineering graduate student Katrina Keller in assisting campers through Dr. Ken Gentry's Instrumentation and Physiology Lab on the third floor of the Digital Computers Lab. Nineteen of the 39 campers in Bioengineering grouped into teams of two or three with the task of constructing an electric circuit that could measure their heart rate. The lab was taken directly out of Dr. Gentry's syllabus for college juniors.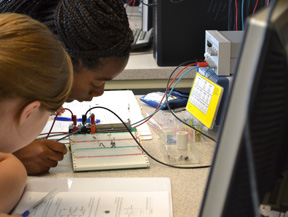 Two girls at the G.A.M.E.S. learn about electric circuits.
Neither Kathryn Carson from Houston, Texas nor Randi Wilson of Elmhurst, Illinois had worked with circuits before. The pair of high school juniors peppered Cvetkovic and Keller with questions, often finding that a previous step required just a bit more care than originally provided. After an hour or so, they watched as their heart rates kicked spikes on the computer monitor.
"It is rewarding to see girls get excited about engineering," Keller said. "I never went to a camp like this; it was always horseback riding for me. Also, these girls are getting this stuff faster than I did when I took Dr. Gentry's class."  
Keller, like every other camper and counselor, wore a DNA necklace. Complimented with colorful beads, the necklaces held DNA samples obtained by swabbing campers' mouths.
Developed by the Women in Engineering Program at the College of Engineering, the camp exposes girls to the possibility of careers in engineering. The camp's website says: "One of the reasons women do not pursue careers in engineering and science is because they do not perceive the social validity of these fields."
Camper selection was based upon academic performance, application essay, and a teacher letter of recommendation. The girls stayed at Illinois Street Residence Halls during the week and ate their meals in the dining hall. Nighttime activities, like baking cookies, were scheduled every night. This year's camp culminated with a Friday night talent show in the Student Union.
Author/Photographer: Phil Johnson, Communications Intern, I-STEM Education Initiative
More: 8-12 Outreach, GAMES, GAMES: Summary, Summer Camp, Women in STEM, 2012