Club Insecta Provides Community, Resources, Outreach—and Lots of Time Out in the Fresh Air Collecting Bugs
April 13, 2018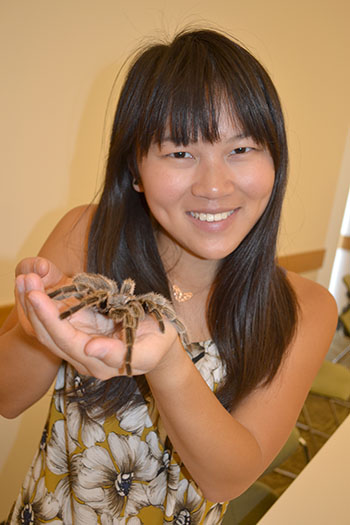 Club Insecta President, Liz Dabek, introduces local middle schoolers to Cecelia the Tarantula at an after-school outreach at the Champaign Public Library.
One would assume that Club Insecta is comprised solely of Entomology students; however, that's not the case. All one needs to join is to be an Illinois undergraduate student. While having an avid interest in insects might be expected, that, too, is not a prerequisite. In fact, that might crop up after hanging around club members for a while. Besides fostering a love of insects, the RSO (Registered Student Organization) provides its members a sense of community based on an interest in insects and a fervent desire to see its oft-maligned namesake—the insect—gain some appreciation, or at least grudging respect, from the general public. And of course, a huge perk is getting to ditch one's books and spend some time out in the fresh air and sunshine gathering insects with a net, which significantly adds to the club's appeal for its members.
While as its name suggests, the club is primarily focused on the species of the Class Insecta—i.e., bugs, it also serves as a support group for its members. Comprised of undergraduates, the group often collaborates with the EGSA (Entomology Graduate Student Association) on various activities. Club Insecta also provides members academic support, such as workshops on how to apply to grad school and seminars where faculty speak about their professional life on campus. Plus, the club makes available information about entomology-related job opportunities.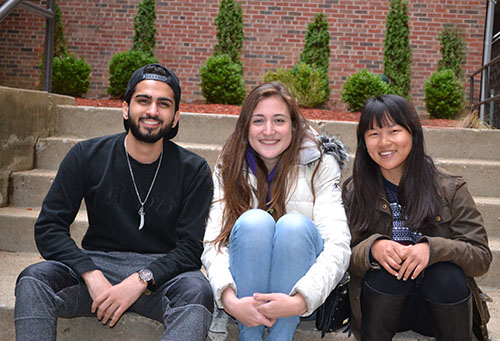 Club Insecta officers, Treasurer Syed Ali, Vice President Rachael Valiunas, and President Liz Dabek.
Like most campus clubs, Club Insecta has officers: Liz Dabek, President, Rachael Valiunas, Vice President; Syed Ali, Treasurer; Benjamin Chiavini, Secretary; and Jihoo Kim, Social Media. Also like other clubs, the group holds some traditional fundraising events, like selling cookies on the quad.
What separates Club Insecta from its RSO counterparts, and which its members appear to enjoy immensely, is its numerous collecting events. "Every weekend that it's warm, and the weather is nice, we try to get out," admits Dabek, regarding the frequency of these events. Some are short collections done nearby, such as at the Arboretum or the Japan House on campus. However, many involve getting out of town for a few days and camping out, such as at Kickapoo State Park in Indiana. "We'll camp out, and we'll just go out with our nets (generously provided by the entomology department) and collect, and do aquatic collecting as well," she says.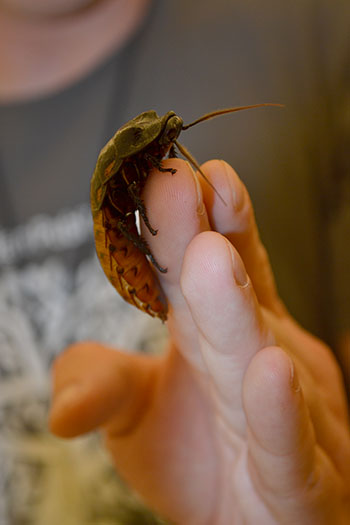 Cockroach 1, a male Madagascar Hissing Cockroach who was part of menagerie at Club Insecta's April 11th outreach at the Champaign Public Library.
The members keep all of the insects they collect, then during the winter (when there aren't many insects out), they'll schedule a pinning day, which is when they teach people how to pin and mount insects and help each other ID the insects. A lot of "borrowing and lending" evidently happens during these events, especially by Entomology students who need to collect specific bugs for a class. "Yea, I've definitely done that," Dabek admits, "My old collection from other classes looks a little bit thin right now because it's been taken by other people!" she admits.
The prevalence of insects outside actually determines the frequency of meetings the club holds. For example, during the warm weather (spring, summer, and fall), when more insects are out and about, the club meets once a week. In the winter, though, when the number of insects to be encountered drops considerably due to cold weather, they meet bi-weekly. Ironically, their non-insect-collecting social activities are also based on the weather. For instance, social outings, like movie nights or bar crawls to local watering holes, are mostly scheduled during the winter. However, confesses Syed, even the social events get "really nerdy because we all talk about insects!"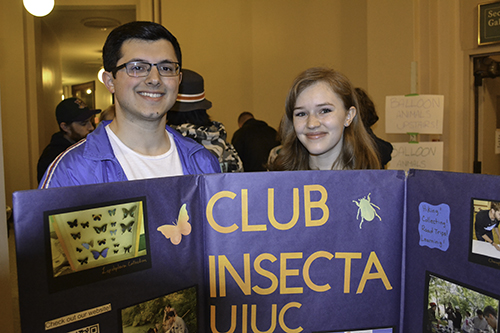 Two Club Insecta members staffing the club's exhibit during the Spring 2018 IFFF.
Since one of the dynamics common to most Club Insecta members is that they're passionate about insects, sharing that passion with others is one of their chief motivations. Thus, one of the Club's primary emphases is outreach activities, where members visit schools, libraries, and other venues to educate participants about insects and correct misconceptions.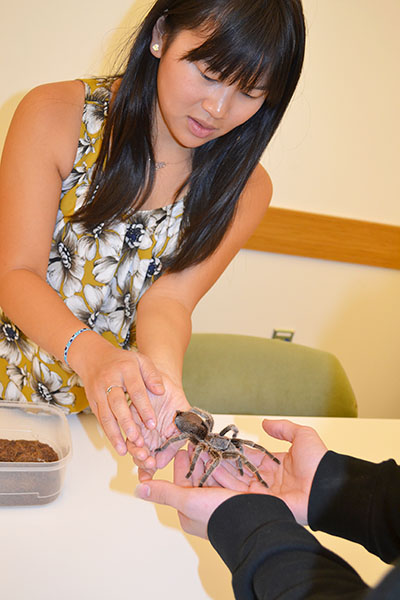 Liz Dabek slowly passes Cecelia the Tarantula to a young visitor at Club Insecta's April 11th outreach at the Champaign Public Library.
For instance, one recent outreach event was at the Champaign Public Library on April 11th. Because the library is a popular gathering spot for middle school students once school is out for the day, a steady stream of students dropped by Club Insecta's after-school activity to look at, find out more about, touch, and even hold a number of the menagerie's intriguing insects.
The club's biggest outreach event of the year by far is helping out at ESGA's Insect Fear Film Festival (IFFF), recently held at Foellinger Auditorium on Saturday, February 24th. There, the club staffed a table with a number of hands-on activities. For instance, kids could make insects using origami or even pipe cleaners, plus score a red, "Lone Star Tick" balloon (complete with the requisite star.)
For a club so devoted to a very specific discipline—entomology—what might come as a surprise is the mix of non-entomology-related majors, even among the leadership.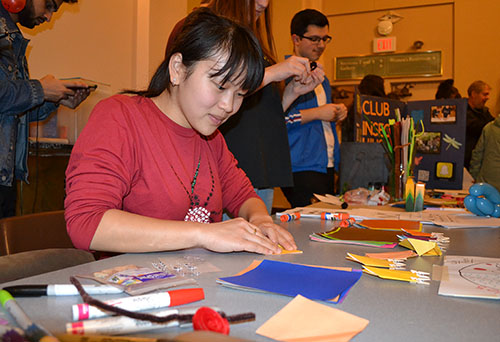 Club Insecta's president, Liz Dubek, demonstrates how to make an origami insect during the recent IFFF.
Of course, the club has its share of entomologists, like its President, Liz Dabek. A senior in Crop Science Insect Pest Management, Liz has had a life-long love affair with insects, and says she started becoming interested in them quite early.
"So by the age of ten," she admits, "I knew that entomology was what I wanted to pursue as my passion and my professional future. I came into this school knowing I wanted to do entomology."
Dabek remembers specifically looking for an entomology club on quad day as a freshman, found Club Insecta, and joined immediately. The club, which has been around for 11 years, was very small when she joined, but has grown to about 20–25 active members over the last four years. (Incidentally, Dabek has been president of the club for the last three years—since her sophomore year.) "It's been amazing being the president and doing a lot of outreach," she says. "We also do a little bit of extension work."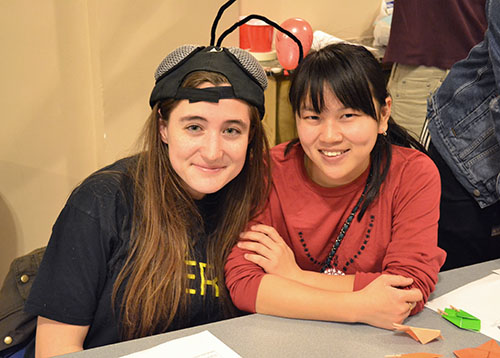 Rachael Valiunas and Liz Dubek at the Club Insecta table at the 2018 Insect Fear Film Festival.
Dabek's goal for club is to improve public opinion regarding their mascot: "For people to really learn to respect insects, to give them the respect that they deserve. I think that they are amazing creatures, and we still have so much to learn about them. We want to teach people with preconceived notions and fears about insects how awe inspiring insects really are."
Plus, she hopes to teach people that "Entomology isn't just about liking bugs," but would like to recruit more folks into the field. "You can pursue it more than just a passion," she continues. "It can be a profession. It can be more than just becoming a professor. There are so many jobs that are needed in entomology...There's a lot of things you can do with a degree in entomology or just being interested in it."
With her degree in Entomology, Dabek hopes to become a professor someday. So she'll be attending the University of Maryland this fall, working with wasps, "which is something I've wanted to do since I've learned about them," she says.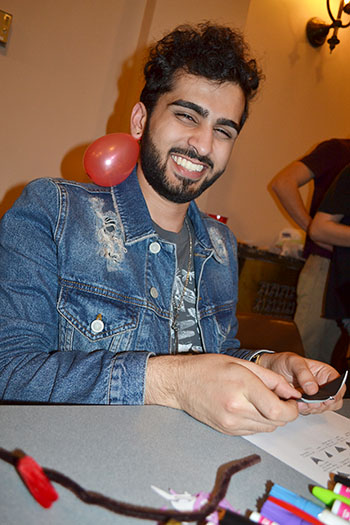 Syed Ali mans the Club Insecta table at the 2018 IFFF.
Similar to Dabek, Club Insecta's treasurer, Syed Ali, who isn't in Entomology, but a junior in Neuroscience in the School of Molecular and Cellular Biology, has also had a love affair with insects since he was a child. But while he was intrigued by most insects, early on, he became fixated on butterflies.
"Since I was five years old, I was in love with bugs," he confesses. Then his dad took him to a Chicago nature museum with a butterfly haven. "I absolutely fell in love with the science of butterfly metamorphosis," he admits. So every day after school, he would go out into his backyard which is adjacent to "this ginormous park," he recalls, and collect insects: crickets, grasshoppers, but especially butterflies. He particularly liked just watching them and seeing all the different kinds. "They're just so diverse!" he declares.
Since for Ali, his favorite part of entomology is studying Lepidoptera (moths and butterflies), during the recent IFFF, he immensely appreciated the huge butterfly and moth collection that was on display. But you can imagine his delight when, because of his "insider" status as a member of Club Insecta, he discovered that Room 407 in Morrill Hall has "drawers full of…these stunning butterflies I didn't know existed."
While Ali reports that club members also get access to resources, such as nets and pinning supplies, he says the most important benefit of the club is the community. "Connecting with people who have similar interests." Even more than just connecting, Ali has also made some of his closet friends (Liz and Rachael) through the Club. "I mostly met them or bonded with them through my love of insects," he reports.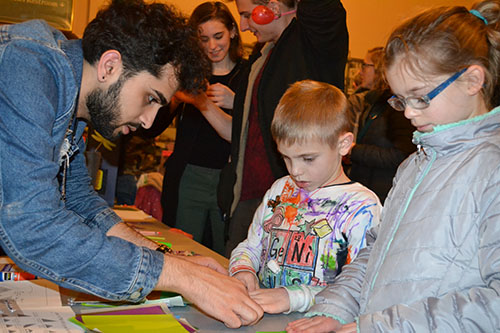 Syed Ali (left) helps local youngsters make origami insects Club Insecta's exhibit at the recent IFFF.
Like Dabek, Ali's goals are for the club to impact others' perception of insects through education. "I like when people are more passionate about telling their friends about bugs and that they don't have to be afraid of them. With more knowledge, you can, at the end of the day, teach others that insects are just like any other animal and not to be intimidated by them."
Unlike Dabek and Ali, Rachael Valiunas, the club's vice president and a junior in Bioengineering, doesn't have a life-long infatuation with insects. In fact, she reports that before joining the club, she didn't really know much about bugs at all. But after attending a couple of meetings, she discovered that she liked learning about them.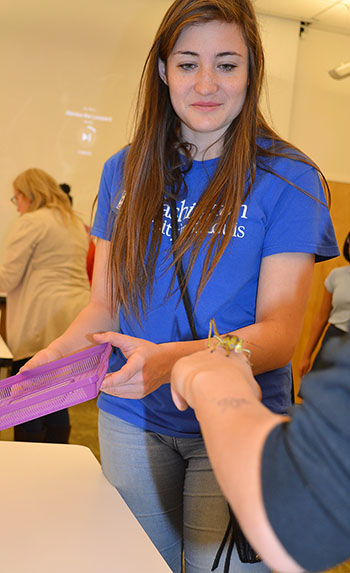 During an after-school outreach at the Champaign Public Library. Rachael Valiunas watches as a local middle school student holds a grasshopper.
"I like learning about different life, so I saw it as an opportunity to learn more about the diversity of life on Earth. I've enjoyed going on collecting trips and all the activities we have."
Valiunas, who is majoring in Bioengineering and plans on either med school or grad school after she graduates, indicates that some of what she's learned through Club Insecta includes: "A lot of interesting facts about bugs and the diversity of them and their coevolution with other species that I really didn't know before…The sheer diversity and robustness of insects against their environment."
According to Valiunas, another important benefit she's gained from Club Insecta is a sense of community: "I was also unfamiliar with a whole community of people who are really into bugs and studying bugs. I was just blown away, to be honest, by the interest and the passion and everything that I've learned."
So her goal for the club is that it would have a similar impact on others, including possibly fostering careers in entomology. "I want the club to do the same thing it did to me to other people. For people who don't know much about bugs, to get involved, and for people who are really interested in bugs, to allow them to pursue a career involving them."
---
Story and photographs by Elizabeth Innes, Communications Specialist, I-STEM Education Initiative.
More: Entomology, 2018
For additional I-STEM web articles about Illinois' Entomology outreach, see: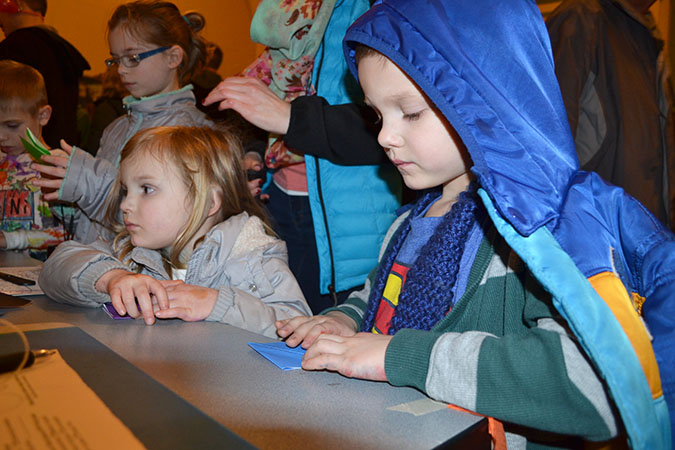 Local children make origami insects at Club Insecta's table at the recent IFFF.