STEAM TRAIN: Middle Schoolers Perform Autonomous, Student-Driven Research Encouraged by Near Peers
"So, it's kind of a combination of working with these different levels of students and giving them the reins rather than us telling them what they should do." – Daniel Urban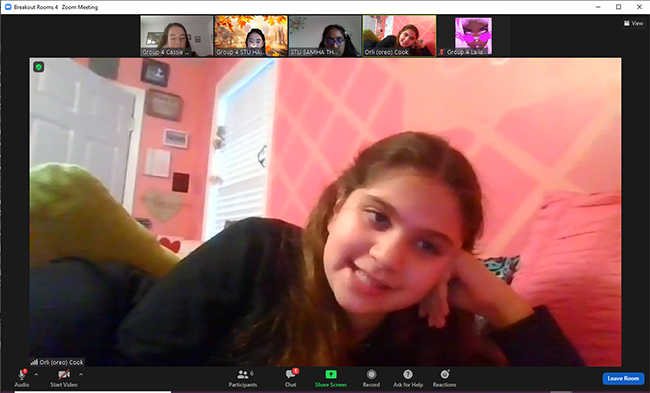 A Franklin student chats with her fellow Group 4 members about disposable packaging during a STEAM TRAIN breakout session.
December 2, 2020
Every Tuesday afternoon after school, six groups of around 24 excited Franklin STEAM Academy students hang around online a bit longer to conduct independent research on topics of import to them via a scientific exploration project called "STEAM TRAIN." Mentoring the 6th–8th grade students are some near peers—Carl R. Woese Institute for Genomic Biology (IGB) undergrads, grad students, and post docs, plus—even closer in age to the target group—a dozen University Laboratory High School (Uni High) students. The hope is that experiencing research by exploring issues they're passionate about might foster the middle schoolers' love of science—and possibly even solve some of today's intractable problems.
Franklin student Tarun Antony, a member of Group 1, discusses their rocket fuel research project with his teammates.
STEAM TRAIN is funded for one year by the COmmunity + REsearch Partnership Program (CO+RE), with the potential to extend another two years. Funded through the Office of the Vice Chancellor for Research and Innovation, CO+RE grants seek to develop long-term, reciprocal relationships with community stakeholders by addressing the needs and interests of Urbana-Champaign communities through sustainable, equitable partnerships between researchers and community members.
Outreach Activities Coordinator Daniel Urban decided IGB, with its Uni High and Franklin partnerships, was a perfect fit for a CO+RE grant. When he "saw the call for this—what it's looking for—this overlap of community and research," he told himself, "Well, we already have these two great institutions right here that we're working with. Why not put the two of them together?"
Working alongside Urban to administrate the program are a couple of STEM folks from the other two partners. For instance, Franklin's Magnet Site Coordinator, Zanne Newman, has helped to foster IGB's ongoing partnership with the school, including classroom visits, a sixth grade tour of IGB, and even Genome Day, one of IGB's premier annual events, held at Franklin last fall.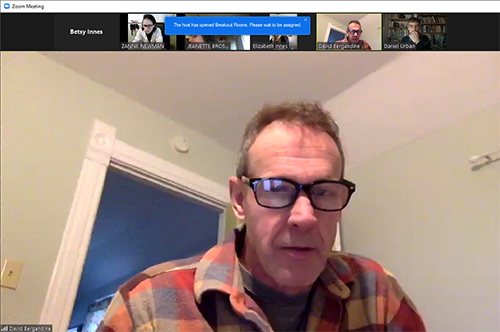 Uni High chemistry teacher David Bergandine participates in a STEAM TRAIN Zoom meeting.
Supervising the Uni High contingent is chemistry teacher David Bergandine. IGB's relationship with Uni began when Urban and the former outreach coordinator met Bergandine while teaching a class at the school's Agora Days. "He was really eager to try to do more engagement with IGB as well," reports Urban. He recalls that Bergandine had "this great group of students that were already doing activities in other local schools, trying to have some type of mentoring capacity." Fast forward to 2020, Bergandine oversees the crew of around a dozen students from a Uni club who are a perfect fit for STEAM TRAIN—they thrive on mentoring younger students. "We have had many years of experience sending Uni students into classrooms," Bergandine reports. "Our kids are always impressed with how motivated and interested the younger students are and how much they enjoy working alongside the older kids from Uni."
So, with key partners already in place, Urban applied for the CO+RE grant. While grant-writing isn't necessarily part of his job description, he says, "If you want to do bigger things, bigger events, reach more people, you need more funding for it." So, to do bigger things and reach more people, he designed STEAM TRAIN, whose name, like most programs, is comprised of apropos acronyms.
Daniel Urban, IGB's Outreach Activities Coordinator, during a STEAM TRAIN Zoom meeting.
"I will confess to being one that likes to try to fit things into acronyms," Urban discloses. "And since they were already a STEAM Academy, the TRAIN just fell in naturally to it." The STEAM in the school's name, of course, stands for Science, Technology, Engineering, Arts, and Mathematics. The TRAIN acronym stands for Trans-disciplinary Research Across Institutional Near-peers.
As its name implies, the program's two main emphases involve 1) autonomous, curiosity-driven student research 2) facilitated by near-peer mentors. Urban likens the autonomous research aspect to a national program called ExploraVision, where schools across the country form science teams of two to four kids who try to come up with the next big innovation for the future and pitch it. What Urban likes about ExploraVision is this: "It's the next generation—this upcoming generation—that's already thinking about 'What are we going to need in the future? What is going to advance science?'"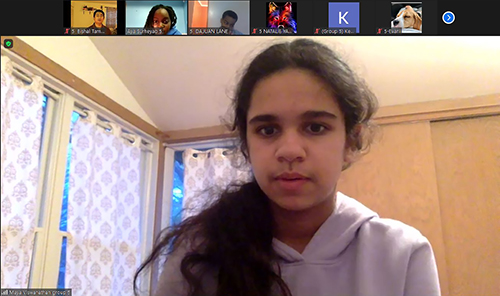 Uni High's Maya Viswanathan interacts with Group 5 members during a breakout room session about the group's research project: reversing the effects of aging.
Aya Surheyao, also a Uni High mentor, shares with Group 5.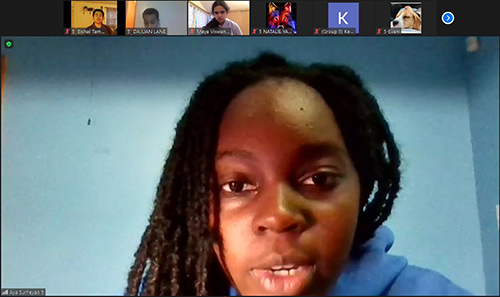 Exploring the idea of student-driven research, Urban suggests that science classes usually aren't autonomous; typically the teacher assigns the projects, saying, 'Hey, research this; focus on this!'
"Sometimes that's hit or miss whether or not the kid is really interested in that," Urban admits. "But what's always going to win, especially, thinking about this from a researcher's point of view: you get into science…to follow your own ideas. Why not give the kids that autonomy in the beginning? They're going to have more of a vested interest in that. They're going to want to pursue it if it's their idea…It's just giving them a platform for that curiosity—'Where do you want to follow it?'—and just helping to enable it."
What's serendipitous about the project is that Uni students are well versed in the idea behind STEAM TRAIN. In fact, Uni has participated in ExploraVision for a number of years. "They've they always have at least one team that competes," Urban explains, "and they've won it several times."
Also, Uni High students' involveemnt is a perfect example of the program's other key concept—using near peers. According to Urban, there's often a disconnect in terms of age when someone a lot older interacts with younger students, who are maybe not as comfortable with the older person. "But there's this great bit of literature about how near peers are a really, really inspiring way to go, because [kids] relate more to somebody closer in age to them."
So, the idea was to create this near-peer chain of people who are working together and closer in age, i.e., Uni students are closer in age to Franklin students, and IGB undergrads and grad students are closer in age to the Uni students, etc. "There's more of a comfort level there," Urban claims.
In a nutshell, the premise behind STEAM TRAIN is this: "It's kind of a combination of working with these different levels of students and giving them the reins rather than us telling them what to do," Urban underscores.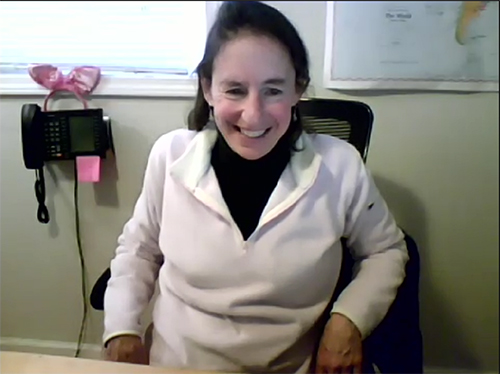 Franklin STEAM Academy's STEM Coordinator, Zanne Newman during the December 1st Zoom session.
So exactly what are Franklin students curious about? Topics being researched range from rocket fuel, to carbon capture, to bioluminescence. And what is surprising—amazing really—is that these cutting-edge research topics, most likely being explored on campus by world-renown researchers, weren't chosen because they mesh with what IGB mentors are studying. The Franklin students came up with the research topics on their own.
Zanne Newman reiterates the notion that the research is student-driven, "I just want to clarify: the goal was never for those [IGB] scientists to have a chance to use this as a platform. The goal was for those scientists to help these kids do their research. And this is what we're doing right now… We're trying to teach 11, 12, 13-year-olds how to do research."
One thing the team hopes rubs off on students is what scientists are like. "We're having our scientists teach them that scientists have questions," Newman continues. "They're interested. They're curious. They find out, 'Oh, that doesn't work!' They find something else. And then they see what they can find. We're trying to teach them to be real scientists."
Topics the young, potential scientists are researching include:
Developing safer and more efficient rocket fuels;
Understanding how birds maintain orientation and navigate in adverse weather;
Capturing carbon from the atmosphere and repurposing it for practical uses;
Reducing non-biodegradable waste by redesigning disposable packaging;
Studying regeneration and senescence to reverse or halt the effects of aging and death; and
Investigating mechanisms of bioluminescence for use in bio-inspired technologies.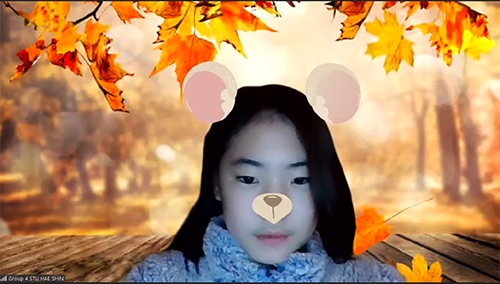 A Franklin student, Hae Shin, a member of Group 4, discusses her team's project: redesigning packaging to reduce non-biodegradable waste.
Newman shares an anecdote about student research topics. "The whole grant was this idea of student scientists. What does a kid care about? What is a kid interested in? Of course, they're interested in global warming and environmental aspects, but I was a little surprised to find out that they were interested in living forever."
(Scheduled to retire next year, this reporter is pleased a team chose to tackle that and wishes them a ground-breaking research experience!)
Surmising how the kids might have come up with that topic, Newman continues: "So I used to teach fourth grade, and there's a book about a jellyfish that makes the grandfather, who is the scientist, young again, and the kid must have read it. So, I asked that group, 'Did you guys read this book?' And one was like, 'Yeah, I read that book!'"
Due to COVID-19, STEAM TRAIN, like many 2020 outreach programs, had to be adjusted and ended up being different than originally planned. For instance, mentors were intended to visit Franklin every other week after school. Also, the outreach was intended to begin with one grade, add a second the following year, and so on, until all three grades were participating. Plus, video aspects had been planned, but as only as a filler in between in-person segments. Also, kids were to visit the IGB and some of its labs several times. "The way everything worked out, we had to completely rework this on the fly," Urban admits. "What we ended up doing was opening it up to everybody, right off the bat."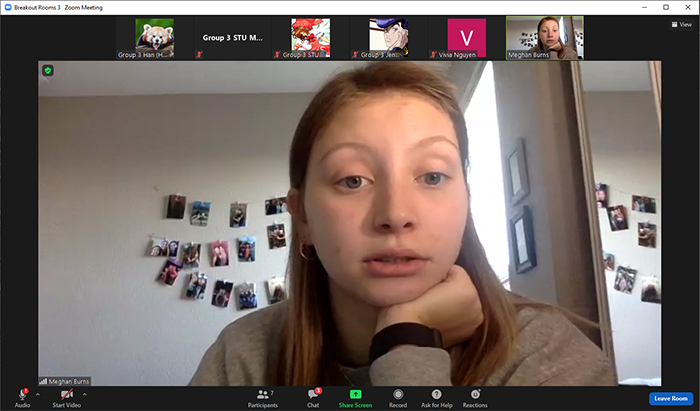 IGB undergrad Meghan Burns chats with Group 3 students, who are studying how to capture and repurpose carbon from the atmosphere.
So, STEAM TRAIN involves 6th through 8th graders (with a large number of sixth graders involved), and it's completely online via Zoom. Participants begin in the main room, then teams, comprised of Franklin students plus Uni High and IGB near-peer mentors adjourn to breakout rooms. Stressing the need for outreach groups to adapt, Urban insists, "Well, we can't delay things forever. We have to start really getting creative and innovative and adapting the projects that we want to do for an online format."
Another challenge the program has encountered is related to materials teams need for their research; as teams figure out what they need, these will be purchased and dropped off at the school so the students can swing by and pick them up.
Another COVID-related challenge had to do with recruiting. Team members had originally planned to come into school and work with science classes to discover which kids were interested. However, that didn't work as planned. And, though the team received the funding in April, they didn't actually begin the program until October…partly because of recruiting. "It took a while," Newman explains. "So unfortunately, it was supposed to be with the teachers in the school; we took a long time to try to find kids. So that's the problem with virtual learning—you can't just drop in. We had to recruit them. So, I spent about a month sending out emails, talking to teachers, showing this little preview film Dan had made. And I got some names." One thing she learned during the process? "It turns out kids don't answer emails; I sent out a hundred emails."
Another component to change slightly is that student presentations will also be online. At a mid-point, mini-symposium on December 15th, the last day of the fall semester, rather than going into breakout rooms, everyone will remain in the main room to share what they're working on and how they're going to proceed. The goal is to apprise each other what the different teams are doing.
Also, a final presentation will still be held sometime next spring. These won't require a specific presentation format, such as PowerPoint or a poster, each groupo will present their research via an online presentation however they want, explaining how they came up with their project, what their inspiration was, what they actually did, what they found out, and what their next step might be. Urban hopes to make it "available to anybody to come check out this really cool research that local kids in our community are doing."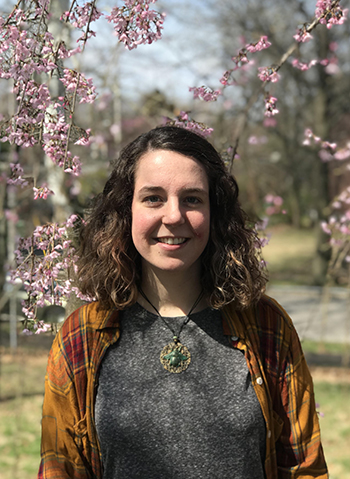 IGB postdoc Cassie Vernier. (Image courtesy of Cassie Vernier.)
Helping to communicate and personally demonstrate what scientists are like are several IGB folk, including Cassie Vernier, a postdoctoral researcher in the Robinson lab in the Gene Networks in Neural and Developmental Plasticity theme. Vernier is looking at how gut microbes assist honey bees in the transition from nursing behaviors within the hive to foraging behaviors outside of the hive.
Vernier got involved with STEAM TRAIN because she is "always excited to participate in outreach targeting K–12 students." A science teacher who pushed her to consider science as a career significantly impoacted her when she was in sixth grade—the age of many participating Franklin students. "I began to fall in love with science, and I knew I wanted to be a scientist by 8th grade." However, it wasn't until she participated in an undergraduate research program her freshman year and began to research social behaviors in paper wasps that she learned of the diversity of topics in academic science. "Therefore, since then, I have tried to participate in outreach that exposes K-12 students to real scientists and the variety of available research topics."
The student-driven research aspect particularly resonates with her: "When I heard about STEAM TRAIN, I was very excited to join," she says. "I thought that the unique aspect of letting the students drive their own projects was appealing and similar to what it's like to actually be a scientist."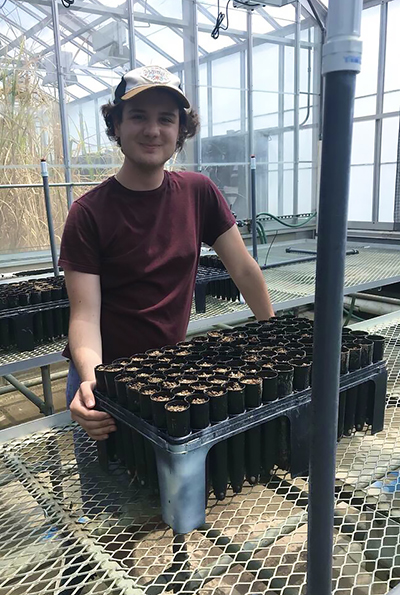 James Kosmopoulos works on his research in the plant sciences greenhouse.(Image courtesy of James Kosmopoulos.)
Also serving as an IGB mentor is James Kosmopoulos, a third-year undergrad majoring in Integrative Biology, who started at IGB as a research assistant his freshman year. Working in the Heath Lab for Coevolutionary Genomics since his sophomore year, he's been studying the mutualistic relationship between legumes and soil bacteria called rhizobia, loooking at how other types of bacteria enter the nodules and influence the mutualism between legumes and rhizobia.
Kosmopoulos says he loves it when kids get excited about science. "My little brother is really curious," he reveals, "and it's so rewarding when I get to teach him a little bit of what I'm learning myself." This is partly why he signed up to be a mentor for STEAM TRAIN. "I wanted to teach other students like my little brother how to be scientists while I'm also learning how to be one. I've already been amazed by what the students have come up with, and they have been teaching me a lot too!"
Kosmopoulos calls STEAM TRAIN a "super cool opportunity" for Franklin students to do their own science with support from other scientists. "When I was a kid, I didn't know how I could be a scientist outside of the classroom, and I would have loved to be a part of STEAM TRAIN. I'm glad that these bright students get to have the resources and the support from mentors who want to help bring science to them."
Another IGB undergrad mentor is Meghan Burns, a chemistry junior who works in Long Lab. She volunteered for Steam Train because she thought it was a great opportunity to get involved in a meaningful organization. "It is so much fun to work with these students each week and see how much they learn," she says, " It's been really cool to see them come up with ideas and put those ideas into life during our weekly meetings."
Part of Group 3, the carbon capture group which is researching how to filter carbon out of the air, she reports, "So far, we have come up with a filter with plants and a vacuum, and we are currently in the process of making virtual models of them." While the topic isn't necessarily related to her field of study, she calls it, "A unique and interesting topic, and I have learned so much about it. I think this has the potential to make a difference. Our topic is something that can have a large impact on decreasing the carbon dioxide input into the atmosphere, and I think our plant filter has potential."
Burns sees the program as very beneficial for the students "because they can see the scientific process, and they have the freedom to develop their own idea, which normally students don't get in school. This club is a great creative and social outlet for them, especially during COVID." She adds that being there to assist them "allows them to have someone to bounce ideas off, and I think we help guide them towards completing their project."
Regarding the project's goals, Urban hopes to "give kids a creative outlet, but also hopefully to show them that STEM is a viable pathway for them." Why target middle schoolers? "One of the reasons that we're starting at this age is, research has repeatedly shown that where you lose kids in their interest in STEM or the thought process that STEM is for them—that they have the ability to do it—is in middle school," he explains. "It is that early. So, focusing on a later time, you're already missing a good deal of people. So, this is the time to get kids."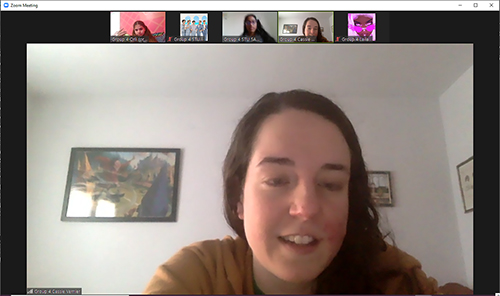 IGB postdoc Cassie Vernier chats with the Group 4 participants during their Zoom breakout meeting to plan their research project about redesigning disposable packaging.
Focusing on underrepresented minorities in STEM, he adds, "There's already a big problem in STEM with that. So, if you're going to get that population, you need to start at the middle school level to start engaging there and showing them that this is a viable path...something for you as well."
According to Newman, STEAM TRAIN appears to be successfully recruiting students underrepresented in STEM. She claims they have: "quite a mix of kids. A lot of them are African-Americans. So, I was really even more excited about that. So very diverse group. But when I see them in person, I'm like…Brown kids! So that's just awesome." Her overall take? "To the extent you can teach people in an hour, I think this is a really cool opportunity. I'm very excited."
---
Story by Elizabeth Innes, Communications Specialist, I-STEM Education Initiative. Photos by Elizabeth Innes, unless noted otherwise.
For more I-STEM web articles about IGB, Uni High, and Franklin STEAM Academy outreach, see:
More: 6-8 Outreach, Franklin STEAM Academy, IGB, STEM Pipeline, Uni High, 2020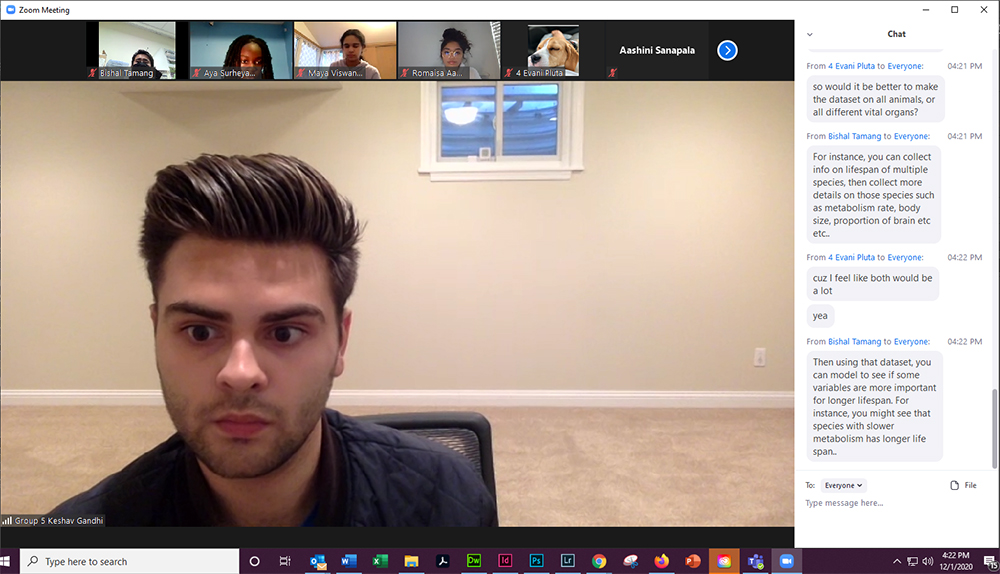 Uni High student Keshav Gandhi answers questions and gives advice to Franklin students in the Group 5 breakout room who are seeking to reverse or halt the effects of aging.. To the right are chat comments posted by IGB postdoc Bishal Tamang from the RIPE (Realizing Increased Photosynthetic Efficiency) research group.