STEM Summer Camps Feature
Discover Engineering
Description: Discover Engineering is a camp for students who are interested in science, engineering, and mathematics. Campers work on several projects that will incorporate different aspects of engineering.
Dates: July 28–July 31, 2010
Application Deadline: April 15, 2010
Eligible: Students who will be in the 10th grade in Fall 2010.
Cost: $700
Contact Information:
WYSE website
WYSE Discover Engineering Summer Camp Application
Phone #: 800-843-5410 or 217-333-4454
Email: wyse@illinois.edu

College of Engineering
Worldwide Youth in Science and Engineering (WYSE)
210 Engineering Hall
1308 West Green Street
Urbana, IL 61801
Ph: 800-843-5410 or 217/333-4454
G.A.M.E.S.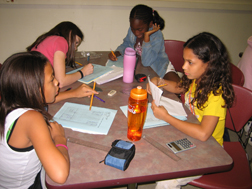 G.A.M.E.S. (Girls' Adventures in Mathematics, Engineering, and Science) is an annual, week-long camp, designed to give academically talented middle-school-aged girls an opportunity to explore exciting engineering and scientific fields through demonstrations, classroom presentations, hands-on activities, and contacts with women in these technical fields. The summer 10 camp will focus on: Structures, Computer Science, BioImaging, Bioengineering/Chemical Engineering, and Electrical Engineering
Eligible:
Structures: Girls entering 6th or 7th Grade in Fall 2010
Computer Science: Girls entering 7th or 8th Grade in Fall 2010
Bioimaging: Girls entering 8th or 9th Grade in Fall 2010
Bioengineering/Chemical Engineering: Girls entering 9th or 10th Grade in Fall 2010
Girls Learning Electrical Engineering: Girls entering 10th or 11th Grade in Fall 2010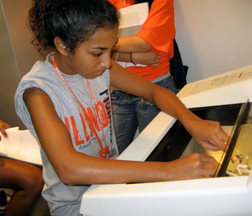 Dates:
Session I: July 25-31, 2010: (G.L.E.E.) and Bioengineering/Chemical Engineering
Session II: August 8-14, 2010: All other camps
Cost:
Structures: TBA ($575 in 2009)
Computer Science: TBA ($575 in 2009)
BioImaging: TBA ($725 in 2009)
Bioengineering/Chemical Engineering: TBA ($975 in 2009)
Girls Learning Electrical Engineering: TBA
Camp Focus:
Computer Science: Gives young women the opportunity to harness the power of computer
Structures: Specializes on areas within Civil Engineering: the design and construction of buildings and bridges, aircraft and space structures, power plants and dams, and other structures around us. Girls use technology to explore computer graphics, create interactive animations, and launch websites showcasing their unique personalities.
BioImaging: Girls use state-of-the-art microscopy tools to understand the effects of environmental changes on plant cells and learn about human health via imaging techniques.
Bioengineering/Chemical Engineering: Campers discover how chemical engineering and bioengineering team up together to cure diseases, provide alternative sources of energy, and make an impact in developing countries.